CARLSBAD: Public invited to Feb. 16 forum on future of Highway 101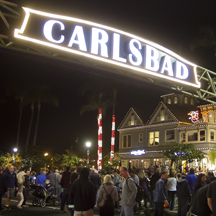 Hang on for a minute...we're trying to find some more stories you might like.
CARLSBAD — The city of Carlsbad hosts a panel discussion and community meeting about historic Highway 101's past, present and future Feb. 16 from 4 to 5:30 p.m. at the City Library, 1775 Dove Lane in La Costa. The discussion will cover how planning and transportation choices affect the community's quality of life, connect people and enhance the community's natural resources, among other topics. Panelists will be Peder Norby, special projects coordinator for the city of Carlsbad; Dan Burden, director of innovation and inspiration at Blue Zones; and Kathleen Ferrier, director of advocacy for Circulate San Diego. More information: Call Carlsbad city Community Relations Manager Jessica Padilla Bowen at 760-434-2845 or email her at jessica.padilla@carlsbadca.gov.
The North Coast Current welcomes your community news. Submit upcoming event announcements to currentevents@northcoastcurrent.com. Submit stories and photos to news@northcoastcurrent.com.