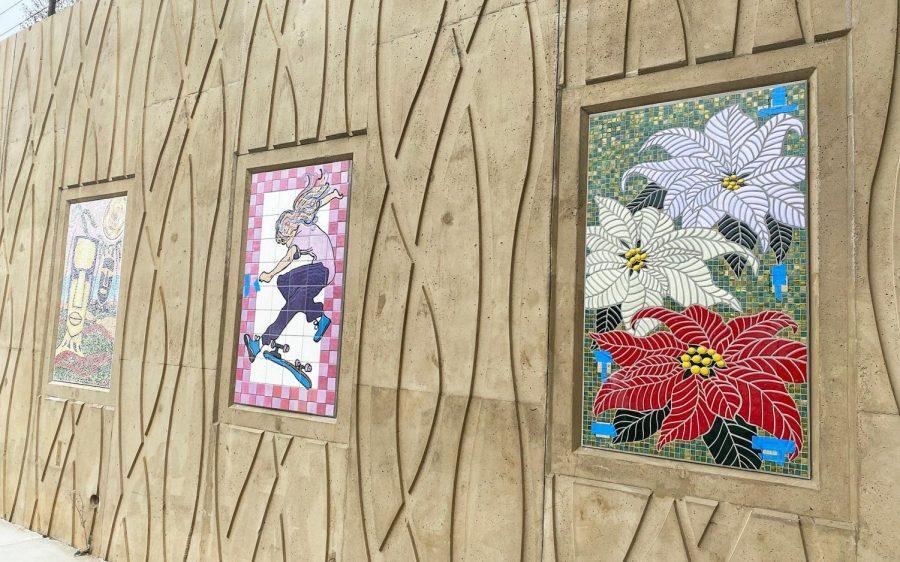 The city of Encinitas has finished installing a series of mosaics at the Santa Fe Drive undercrossing.
The 53 mosaics, which were created by local high school students, college students and adult artists, were the final component of a redesign of the undercrossing, according to a city news release.
The redesign created new bicycle and pedestrian paths under Interstate 5 at Santa Fe Drive as a part of the Caltrans and SANDAG Build NCC project. Build NCC, a series of highway, rail, environmental and coastal access improvement projects across North County, is the first set of projects in the larger North Coast Corridor Program.
Allan Kosup, North Coast Corridor director for Caltrans District 11, said there is a large portfolio of projects in the North Coast Corridor Program. However, he added that the projects could not all be built at the same time due to funding, which led them to be phased in over several decades.
In Encinitas, two undercrossings were redesigned as a part of the project, Santa Fe Drive and Encinitas Boulevard, said Jim Gilliam, arts program administrator for the city of Encinitas.
"When the city was alerted that the undercrossing was going to be redesigned (at Santa Fe Drive) and that … a pedestrian and bike lane was going to be added, city leaders came forward with the idea to put a mosaic or install some public art in the undercrossing," he said.
Gilliam added that since the Santa Fe Drive undercrossing is near San Dieguito High School Academy and many students walk to school through the undercrossing, the city decided to include youths in the project as well.
Jeremy Wright, a sculpture teacher at San Dieguito Academy who worked on the installation, said he liked the idea of students seeing their work when they walk under the bridge.
"I liked this idea that students would be able to see their handiwork, their involvement in the community," Wright said.
He added that City Councilman Tony Kranz originally asked if he wanted to take on the whole project with his students at San Dieguito. However, since it was a fairly large project, Wright said he came up with the idea to turn the mosaic installation into a community project instead.
Wright ended up overseeing four of the mosaics for the undercrossing. One of the mosaics, which Wright co-designed with a San Dieguito alumnus, was a memorial to a student who was killed under the bridge in 2007.
"It really shook our school up," Wright said. "For a good reason, the parents were very upset and … I couldn't get permission from the parents. So on the piece, it's very ambiguous, and there's no mention of his name. But we needed something from our school to kind of have closure with it, or just a memory."
Another of the mosaics was a memorial for a woman who was killed under the bridge in the late 1970s.
Ryan Adams, a recent San Dieguito graduate who helped create the mosaic, said they were able to get permission from the woman's family in order to create the memorial, which depicts a mermaid figure.
Adams also worked on another mosaic for the installation that shows a path leading to a wave, which he said they hoped represented Encinitas culture as a whole.
He added that he thinks it's important for projects like this one to include students because it gives them a broader view of the community and allows them to be creative.
"I think for a lot of students, we're so (focused) on school everyday and getting work done on time and everything, but these kinds of projects really allow you to widen your spectrum and your creativity," Adams said. "And so I think it's really important for students to just kind of branch out and do these things for your community."
Gilliam added that the mosaics have received a positive response from the community.
"We're very grateful to the artists for the contribution they've made and it will be a lifelong tribute to their artistry," he said. "And we're excited about that because the mosaics will be in place for decades to come."
Julia Shapero is an Encinitas freelance writer.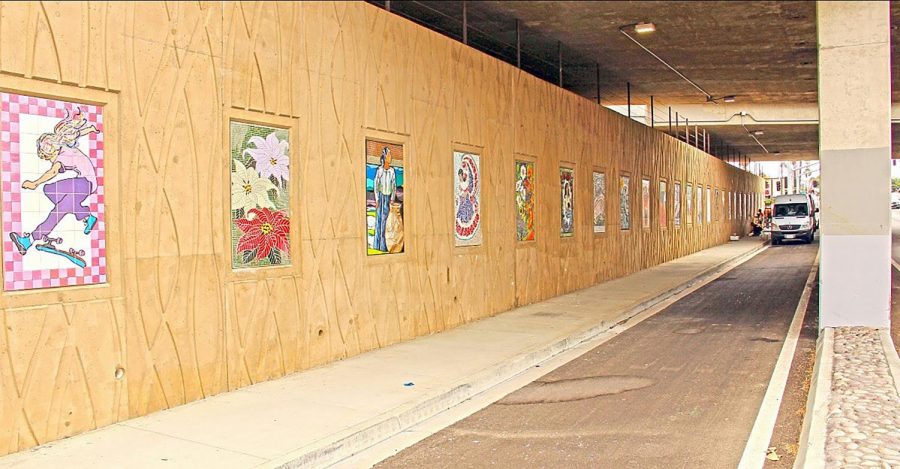 encinitas current, cardiff current