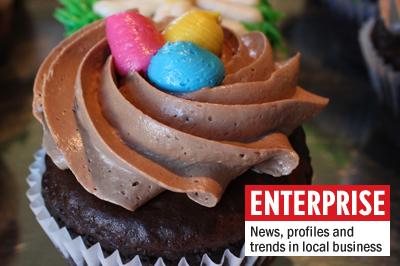 You are what you eat – it's an adage that everyone's heard, but none take it more seriously than Encinitas' 2Good2B Bakery & Cafe owners Mike Barbanti and Diana Benedek. Both experienced major health issues and restrictive diets due to wheat allergies, which led to a passion for not only creating gluten-free cuisine that was equally tasty to wheat-based recipes, but a desire to bring accessibility to the public, allergy-prone and allergy-free alike.
"I would say that 50 percent of our customers are non-gluten-free," said a somewhat surprised Benedek. "Tell me any other company that has gluten-free products that non-gluten-free people would even consider buying."
But 2Good2B isn't the average, gluten-free bakery. Besides offering crusty baguettes, Neapolitan-style pizza, chicken potpies and an inventive variety of cupcakes all without wheat, their entire menu is also 100 percent corn- and soy-free.
"What most people don't know that have wheat allergies is that they're probably allergic to corn and soy as well," Benedek added. "It took me years to find out that I was still sick because I was still eating those. What they're finding out more and more is that you can be just as allergic to corn as you can to gluten."
Benedek, a retired environmental engineer, suffered from fibromyalgia and became a customer of Barbanti's when he started 2Good2B…gluten-free in 2009, an online side business selling his cakes and cupcakes. After learning he had Celiac disease in 2007, Barbanti's distaste of eating like a second-class citizen fueled his desire to create gluten-free food with the same quality as its wheat-filled counterparts.
"The products out there are not acceptable for human consumption and we want to show the world the way the modern bakery of the future is supposed to be – gluten-free and delicious at the same time," Barbanti said. "We want to bring comfort food back to gluten-free."
"We say Mike is the foodie, I'm the healthy," Benedek added. "He's the one that makes sure that everything has that amazing food taste. We use rice and potato flours, which are much richer and not empty calories. You're eating something good for you, not just carbs, like a lot of our breads are brown rice instead of white rice."
Bread has been a cornerstone of their business from the time 2Good2B took over the former It's a Grind coffeehouse location in Encinitas last June, with Benedek bringing recipes for rosemary and wheat bread along with Barbanti's baguettes, baked goods and a laundry list of new items to try out.
"We wanted to not only to sell cakes, but pastas, salads, mac 'n cheese, so people could actually eat meals from here," Benedek said. "But it takes so long before you get the permits to remodel and we didn't want to wait that long before starting, so we managed to put an oven in the back that didn't require permits. We started slowly that way, until we finally got the permits and design approved and we closed for a month."
In the month that 2Good2B was closed for remodeling, the groundswell of interest was impossible to ignore. Benedek said with a laugh: "The contractor said, 'For 20 years I've been renovating commerce buildings and I've never been in the situation where I didn't get pressure from the owners of the business, but from the clients. People would come to the doors and say, 'Please tell me they're opening up again.'"
Tapping into a seemingly impossible market, 2Good2B hadn't only started pleasing countless palettes, but was actually changing their customers' lives.
Benedek recalled: "This mom comes in with two beautiful little girls and one of the girls says, 'Mom, cupcakes! I want this or that,' and the other little one was standing in the back and I said, 'What can I get you?' and she said, 'I can't have it. I'm Celiac,' and I said, 'Oh no, you can.' The mom said, 'Really?' and I said, 'Everything here is gluten-free.' And the mom had tears in her eyes and said, 'This is the only place I can satisfy my two girls'. And I'm like OK, this is why I opened."
Barbanti continued: "Truthfully, everyday we have people come in, and whether they're giddy because they're so excited it's like Disney World or they're a little choked up and teary eyed because they haven't had real food in such a long time, that reinforces everything."
And even though about half of their clientele visit out of necessity, the other half are coming solely for the additional health benefits without the sacrifice of flavor.
Vanessa Mergulhao has been a 2Good2B customer since they opened, and said, "I prefer gluten-free because it's lighter and easier to digest, but I'm not allergic to gluten or anything. Everything just tastes so good here. I come here for bread every week and they run out quick."
"Honestly our biggest problem is that we have more demand than supply. We're having a hard time keeping up with the bakers," Benedek said. "We need to go national with this because the demand is there."
Besides subtracting the gluten, soy and corn, 2Good2B has even eliminated nitrates from their bacon, sausage and ham, and uses local, organic ingredients whenever possible. They also specialize in wedding and birthday cakes.
"If you can have the same flavor, why not have a cake that everyone can eat? … We're really the bakery of the future," Benedek said. "We're always focused on healthy… I want people to eat this whether they're allergic or not. We're not here to make a profit, but to stay open long enough to get the word out."
Lauren Ciallella is a San Diego freelance writer