Cool on the Coast: Stride into Spring with these March events

A roundup of events in Encinitas, Carlsbad, Solana Beach, Del Mar and Oceanside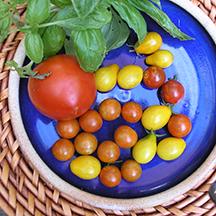 We have had a particularly brutal winter — as far as Southern California winters go — here in San Diego with all the rain we've experienced lately, but March is here and spring is on the horizon. We may have lost an hour of sleep last weekend, but the tradeoff for that is longer days and later nights. Spring also means more fun community events to partake in to enjoy all this extra daylight we're about to enjoy. Here's a list of activities and events to get you going.
Thursday, March 16, 6:30-7:30 p.m. — Make it & Take it: Tikka Masala: Hosted by the Savory Spice Shop in Encinitas, this cooking demo workshop will give participants an introduction to Indian culture and cuisine as they learn to make a traditional Indian curry dish. Registration is $20 per person. There is a four-person minimum for each class; in the event the minimum is not met, guests will receive a full refund or have the option to reschedule for another Savory Spice class. Event details and ticket purchases can be found at https://www.facebook.com/events/1006861036113240/.
Saturday, March 18, 1-8 p.m. — Tower 13 4th Annual Crawfish Boil: Come partake in a time-honored Louisiana favorite: the crawfish boil. Live crawfish are being flown in from Louisiana specifically for the event, which will be overseen by a Louisiana native. Hosted by Cardiff-by-the-Sea's Tower 13, the event will also serve gumbo and jambalaya. Live music will be performed by Ben Powell and Billy Lee and the Swamp Critters. More information is available at http://www.tower13.com/.
Saturday and Sunday, March 18 and 19, 9 a.m.-5 p.m. — Spring Planting Jubilee & Tomato Sale: Fans of local, farmers market produce will love this two-day event at the San Diego Botanic Garden in Encinitas. Touted as a "plant lover's dream," this event "will feature a wide variety of tomatoes, vegetables, seeds, cut flowers and annuals." Live music will be provided by Bob Ballentine and friends and the younger guests can enjoy crafts and activities designed specifically for them. Event entry is free with general admission. More information is available at http://www.sdbgarden.org/springfest.htm.
Sunday, March 19, 12:30-1:30 p.m. — Cake Decorating Class: Cupcake Toppers: Venture over to the 34th annual Cake Show hosted by the San Diego Cake Club for this introductory class on making cupcake tops that "stand out with a POW!" This course is kid-friendly and is open to participants ages 15 and up. Admission to the San Diego Cake Show must be purchased separately. The class is $35 per person. Event details and information available at http://sandiegocakeshow.com/product/conversation-cupcakes-action-packed-edition-sunday-1230-130pm/.
Friday, March 24, 5:30-8:30 p.m. — Brews, Beats and Eats: What better way to celebrate the end of another workweek (bonus points if it's payday for you) and kick off the weekend with cold beer, good music and scrumptious bites. That's precisely what you'll get at Cape Rey Carlsbad this evening. For three hours, enjoy brews from local breweries Stone Brewing Company, Bay City Brewing and Iron Fist Brewing plus unlimited bites courtesy of Cape Rey's Taco Bar. Tickets are still available and range between $15 and $35. Ten percent of all proceeds will be donated to the California Surf Museum. Event information and ticket purchases can be found at https://www.eventbrite.com/e/brews-beats-and-eats-at-cape-rey-tickets-32338387989.
Tuesday, March 28, 11:00 a.m.-9:00 p.m. — Dine Out for Semper Fi Fund: Just in case you needed another excuse to ditch the kitchen for an impromptu date night, Oceanside's Hello Betty Fish House is adding the bonus of dining out for a good cause. Hello Betty will be donating 25 percent of all proceeds to the Semper Fi Fund, which "helps wounded, critically ill, and injured members off all branches of the US military and their families." More details, including menu choices, can be found at http://hellobettyoceanside.com/.
Sunday, April 2, 2-3 p.m. — Author Talk: Elizabeth Letts: Cole Library will be hosting an hour-long talk with author Elizabeth Letts in this collaboration with Adventures by the Book. Letts will discuss her newest book, "The Perfect Horse: The Daring U.S. Mission to Rescue the Priceless Stallions Kidnapped by the Nazis" and will be holding book signings after the conversation. Those who wish to purchase the book at the event will be able to. This event is free to the public; no registration is required. More information about the event, Letts and her book is Available at http://www.carlsbadca.gov/cals/default.asp?ViewBy=7&CalDate=4/2/2017&EventDateID=315269.
The North Coast Current welcomes Current Events submissions. Email them to [email protected].