Cool on the Coast: Beat June gloom with county fair, local arts and more
A roundup of events in Encinitas, Carlsbad, Solana Beach, Del Mar, Oceanside and Escondido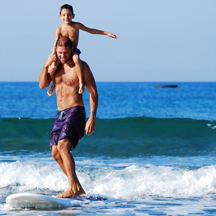 Michele Leivas
June 8, 2017 •
Hang on for a minute...we're trying to find some more stories you might like.

Just like that, another school year has ended and children everywhere are celebrating the return of their favorite time of year: summer vacation. The time for hot days and summer nights has arrived and beach parking everywhere is about to become even more impossible to find. Before you load up the cooler for the typical summer day at the beach, though, check out some of these alternative events going on in your community and make some new (and different) summer memories.
Now through Tuesday, July 4 — San Diego County Fair: Where the West is Fun: It isn't summer without at least one visit to the San Diego County Fair. Rides, shopping, music and – most importantly – fair food (fried everything) awaits guests at the Del Mar fairgrounds. San Diego's large country community in particular will love this year's theme, which will include "country music, a rodeo, Fiesta del Charro, a Frontier Town, and a themed exhibit with a saloon, art, and history displays about this period of time in America." The fair launched on June 2 and will run through Independence Day. It will be close the first four Mondays and three Thursdays of its tenure. For more information about the fair, events, concerts and tickets, visit https://sdfair.com.
Saturday, June 10, 10 a.m.-noon — Free Art Lesson: Artists of all ages (and all skill) are welcome to join this free art class, held at the California Center for the Arts Escondido. This two-hour art class is part of Escondido's 2nd Saturday Arts & Culture Experiences, "a unique, creative collaboration comprised of many diverse cultural experiences that include the eclectic art galleries, museums, theaters, and the library." Contact Laurissa Rudgers at 760-839-6313 or lrudgers@artcenter.org to RSVP. For more information on the event, visit http://artcenter.org/event/2nd-saturday-free-art-lesson/.
Tuesday, June 13, 6:30-8:30 p.m. — An Evening of Storytelling: Who says story time is just for kids? Hosted by the San Dieguito Heritage Museum, this event is for guests ages 21 and up. Local personality Doug Jones will regale audience members with tales of the adventures he's experienced throughout his life. Light refreshments will be served. Call 760-632-9711 to reserve your seat; a donation of $5 is suggested. For more information about the event, visit http://www.sdheritage.org.
Tuesday, June 13, 6-8 p.m. — Paint & Sip Class: An evening combining art and wine is guaranteed to be an evening well spent. Paint & Sip is a monthly class hosted by Vintana Wine + Dine in Escondido. A professional artist will walk participants step-by-step through the creation of the painting of the month as the aspiring artists sip on delicious, discounted wine. The event is $45 per person, which includes all materials. Space is limited and reservations are required. To reserve your spot, call 760-745-7777. For more information on the event or location, visit http://thecentreescondido.com/event/paint-and-sip-class-june-13/.
Saturday, June 17, 10 a.m.-4 p.m. — Fairy Festival: Load up the kids for a magical day at the San Diego Botanic Garden in Encinitas. The enchanted Fairy Garden has loads of activities for children to enjoy, presided over by Fairy Princesses Juniper, Violette and Blue Bell. The princesses will pose for photos with your little ones and even sprinkle them with fairy dust (if they want some). Children can build a fairy garden house, a princess castle or even a fairy glitter necklace — or any of the other craft projects that will be available. Once the photos are taken and the crafts are made, stroll through the Fairy Land Market for some charming trinkets to take home with you. Food and beverages will be available for purchase as well. Entrance to the Fairy Festival is free with paid admission to the gardens. San Diego Botanic Garden is part of the Blue Star Museum program, so all military families (active duty, National Guard and Reserve members) receive free admission until Labor Day. For more information about the event or the gardens, visit http://www.sdbgarden.org/index.html.
Saturday, June 17, 7 p.m. — Cirque du M: Come enjoy a free evening of Cirque de Soleil — inspired acrobatics at Fairmont Grand Del Mar's nightclub Club M. Stick around after the performance and dance the night away (or at least until 1:30 a.m.) to the rhythms and beats of DJ By the C. For more information on the club and event lineup, visit http://www.fairmont.com/san-diego/dining/club-m/.
Monday, June 19 through Friday, Aug. 4 — Carlsbad Summer Reading Program: Get your youngsters registered for Carlsbad's Summer Reading program and watch them fall in love with the magic of reading and storytelling. The program is broken down into different age groups and no one is too young (or old) to sign up. Participants earn prizes by reporting the books they've read to the museum. Prizes vary and are age-specific to each reading group. For more information about the program or to register, visit http://www.carlsbadca.gov/services/depts/library/youth/srp.asp.
Wednesday, June 21, 10 a.m.-5 p.m. — Make Music Day at the Museum of Making Music: Make Music Day originated in 1982 as the Fete de la Musique in France. Today, more than 750 cities and 120 countries host their own versions of this day honoring and celebrating the beauty of melody. The Museum of Making Music in Carlsbad "joins the global Make Music Day celebration by offering 'Pay what you wish!' admission and musical activities all day long. There is something for everyone during Make Music Day. All activities are included with Museum (pay what you wish) admission." Live music will play throughout the day and musicians young and old can participate in any (or all) of the scheduled workshops, where they can build their own instruments, learn more about them or simply partake in a jam session with other music lovers. For event information, including workshop schedule, visit https://www.museumofmakingmusic.org/makemusicday.
Thursday, June 22, 5:30 p.m. — Encinitas Cruise Nights: Those warm summer nights are perfect for evening strolls with the family. Classic cars, hot rods and woodies will line Coast Highway from D Street to K Street in downtown Encinitas every third Thursday of the month this summer for the public to admire and possibly relive those glory days before car seats and minivans. Live music will be played in various spots for guests to enjoy. This recurring event is free for all to enjoy.
Thursday, June 22, 5-8 p.m. — Summer Solstice: You may want to move some things around on your calendar to make room for this evening of wine, food and music at the Powerhouse Park in Del Mar. With food from 22 of Del Mar's finest restaurants and beverages from 27 of California's best wineries and breweries, you can't really go wrong — especially when you top it off with the beautiful scenery of Del Mar itself. Tickets are still available and are $85 per person. For a list of event participants, ticket purchases and general event information, visit https://visitdelmarvillage.com/summersolstice2017/.
The North Coast Current welcomes Current Events submissions. Email them to currentevents@northcoastcurrent.com.