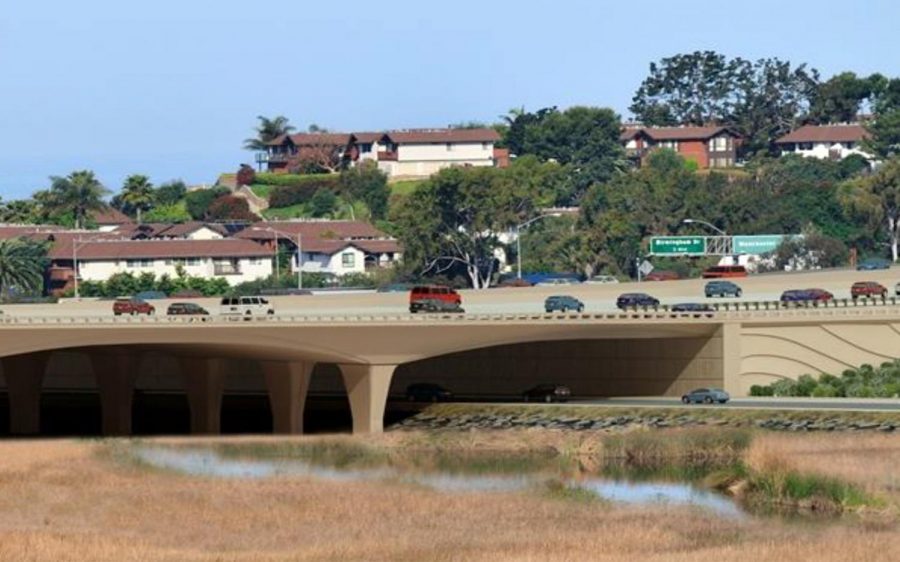 A major step in the replacement of the Interstate 5 bridge over San Elijo Lagoon in Encinitas will take place the weeks of Feb. 2 and 9, the San Diego Association of Governments announced.
During those weeks, lanes will be shifted to the newly completed outer spans of the bridge in preparation for demolition and replacement of the original structure, which dates back to mid-1960s. Portions of the new bridge are already in use for freeway onramps and exits at Manchester Avenue.
The southbound lane shift is scheduled for the week of Feb. 2 and the northbound lanes are scheduled for the week of Feb. 9, SANDAG stated in a news release marking the halfway point of the overall project. The number of lanes will not change.
Caltrans crews will re-stripe and reset concrete barriers during overnight hours.
A reduced speed limit of 55 mph remains in effect from Solana Beach through Carlsbad as I-5 work continues, SANDAG noted. At the bridge, drivers will notice a slight curve where the lanes are redirected.
The freeway expansion is part of the regional BuildNCC program to improve transportation options and efficiency. More information about the program is available online: www.keepsandiegomoving.com/build-NCC/buildNCC-introduction.aspx.
encinitas current, cardiff current