Record weekend attendance at many of the state's beaches and parks during the coronavirus stay-at-home order has prompted new restrictions from the California Department of Parks and Recreation.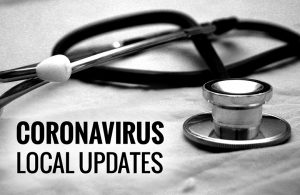 Carlsbad and South Carlsbad state beaches, and Torrey Pines State Natural Reserve, are among the sites now closed to vehicle traffic as of March 24, according to department announcements. State beaches, including Moonlight and Cardiff, remain open, as do restroom facilities.
State campgrounds, including Cardiff, had already been closed as of March 17.
The latest measures follow reports of large numbers of people using the beaches and parks during the weekend of March 21-22. The parking closures aim to discourage such an influx so beach and park visitors can maintain a recommended 6 feet of social distance between individuals.
"Many state parks and beaches received record visitation over the weekend which made it impossible for the public to implement appropriate social distancing practices," the department stated in an announcement Tuesday, March 24. "As a result, the department is working closely with local county and public health officials to modify park operations by closing vehicular traffic at some park units to reduce the density of visitors."
The department launched a website with a list of closures and other updates at www.parks.ca.gov/FlattenTheCurve.
State park peace officers are patrolling sites in cooperation with local law enforcement agencies. People who do not follow the closures could face misdemeanors or fines of up to $1,000 under Gov. Gavin Newsom's COVID-19 coronavirus stay-at-home order.
"For those wishing to take a break in the outdoors, public health officials are advising them to walk, run, hike and bike in their local neighborhoods and walk to parks," the department stated. "Most importantly, the public is being asked not to congregate in the outdoors. … If visitors cannot maintain social distancing, they need to leave the park."
Carlsbad, Del Mar, Encinitas, Oceanside, Solana Beach, the county, the city of San Diego and other cities closed access to beaches, parks and other facilities this week.
Tuesday evening, San Diego County health officials reported the death of a second county resident, a 76-year-old man, from COVID-19. Two infants, a 6-week-old boy and a 4-month-old girl, have been diagnosed with the illness.
"Things are likely to get worse before they get better," county Public Health Officer Dr. Wilma Wooten said in Tuesday's update. "We do not believe that the local wave of COVID-19 cases has yet crested. It's incumbent upon on all of us to do our part to flatten the curve."
(Story updated 3/25/2020 at 3:10 p.m.)
cardiff current, encinitas current