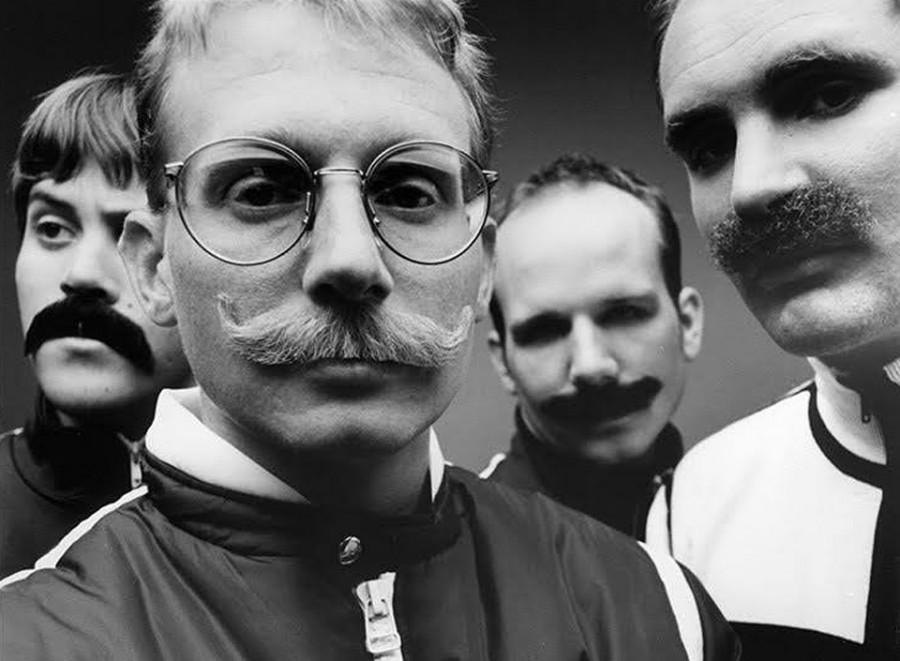 The grunge and metal scenes of the 1990s produced many bands that gained purchase in the pop charts in a way previously unseen in indie music. Many of these groups, such as Nirvana, Pearl Jam and The Red Hot Chili Peppers, stood the test of time and are still popular today. While shoegazer grunge band Hum didn't have as much popular success as some of their contemporaries, they have certainly stood the test of time if the turnout at The Belly Up on Sept. 16 was anything to go by.
Shoegaze was a style of music better known "as wall of sound" in the '90s and was pioneered by the infamous producer Phil Spector. This style featured heavy guitars played in a key that produced a haunting, dreamy quality and was composed in such a manner that there was never a pause or break in the sound. This style largely came from England with bands such as The Verve and Catherine Wheel, but there was a growing market in the U.S. for shoegaze as well, as songs such as Sponge's "16 Candles" and Hum's own "Stars" gained traction in the pop scene.
Because early shoegaze required fast guitars and a beat that could keep up with them, many metal musicians gravitated toward the sound, and such was the case with Hum. The group began in Champaign, Illinois, in 1989 by original guitarists Matt Talbott and Andy Switzky. Hum's first albums were more of a cross between metal and punk rock than the low-tuned grunge they would later produce. Their most popular album was 1995's "You'd Prefer an Astronaut," which gave them their biggest hit single, "Stars." The quiet, nondescript lyrics of Talbott paired with the metal-like guitars to create a sound that not everyone understood, to which fans of Hum were very dedicated.
In its more than 25-year tenure, Hum lost and gained members, took long hiatuses and produced very little recorded work after 1995. The band continues to pop up quite often to play shows and tour, however, so those dedicated fans from the '90s are clearly not going anywhere and keeping the demand strong. Such was the case when the reformed Hum played the Belly Up last month.
Though the venue is intimate enough for audiences to get up close and personal with bands, it is deceptively difficult to fill, especially on a Wednesday evening. It was a pleasant surprise, therefore, to see the Belly Up nearly at capacity when Hum took the stage.
After the opening band — another well-known '90s band, Mineral, warmed up the crowd — there was an even bigger influx of grunge rock lovers. If this wasn't enough testament to the loyalty of Hum's fans, the fact that most of the crowd knew every word to every song is yet more proof. The crowd was a mix of ages as well, which shows it's not just GenXers who love the band's haunting mix of sweet and bitter in both music and lyrics.
The band's set leaned heavily on "You'd Prefer an Astronaut," as this was their most popular and possibly best album, but there was a healthy mix of songs from Hum's other albums, as well. Most of the other tracks came from 1993's "Electra 3000" and their last album, 1998's "Downward is Heavenward." Those albums are more synonymous with the group's recognizable style.
As Hum went through their short but unforgettable catalog, leader Matt Talbott was visibly touched by the audience's fervor and excitement. Talbott's easy, calm demeanor and emotional vulnerability in both his music and lyrics is what makes his fans so loyal, and his performance onstage was every bit as personal and emotive. As the only permanent member of Hum and the main songwriter and lyricist, it can only be Talbott whom the fans connect with in the end.
Hum has always stayed under the radar, partly due to Talbott's quiet and almost sweet demeanor paired with his heavy and hard rock acumen. In the '90s, Hum didn't play shows very often, and many younger GenXers most likely did not get a chance to see them live in the '90s. It's clear, however, that Talbott and the rest of the band enjoy playing for these crowds who either didn't get to see them the first time around or simply have an enduring love for a band who has many more followers than anyone thought.
Here's hoping Hum returns to the Belly Up soon.
Columnist Layla Marino is a San Diego music and arts writer.