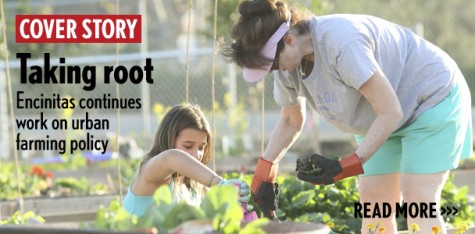 Lauren J. Mapp

February 15, 2016

Filed under Cardiff by the Sea, Encinitas, Food, Leucadia, Olivenhain, Top Stories
Among recent changes in the local farming community, Encinitas' Urban Agriculture Subcommittee continued a discussion of a new urban agriculture ordinance and agricultural permit during the second of five Planning Commission public hearings last month. Led by appointed City Council members Catherine Bla...
Roman S. Koenig

June 13, 2014

Filed under COLUMNISTS, Encinitas, Point of View
Encinitas' long, rich history of agriculture has lost out to crops of so-called "McMansions" over the years, but patches of that past tradition continue to hold ground in the city's urbanized environment. A new movement in urban agriculture stands to revitalize that tradition. Standing in the ...