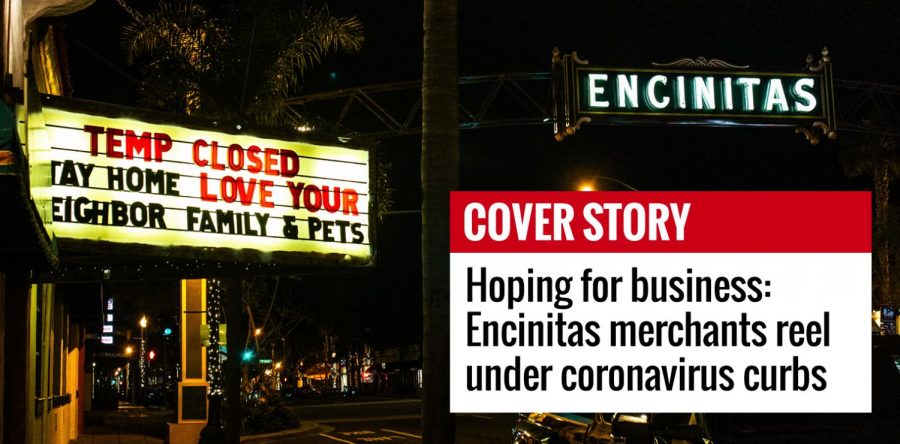 Local businesses in Encinitas are struggling to make ends meet under the tight restrictions used to slow the spread of the novel coronavirus.
The COVID-19 respiratory infection, which first emerged in Wuhan, China, in December, has since spread to more than 160 countries, including the United States. As of Friday, March 27, San Diego County had more than 400 cases of the coronavirus, and the city of Encinitas had 14 cases.
California Gov. Gavin Newsom announced March 19 that he was issuing an executive order for Californians to stay at home, which closed all nonessential businesses and barred dining in at restaurants.
Restaurants such as local breakfast eatery Pipes Cafe have been forced to turn to takeout and delivery alone.
Pipes Cafe's two locations in Cardiff and San Clemente have both been affected by the statewide orders, with the San Clemente location closing completely and the Cardiff location down to 25% of its usual business, said owner Karen Fischer.
"We're basically just staying open so our employees can get some hours and work, but as a business, we are not making any money," Fischer said.
Fischer was forced to lay off 10 employees at the San Clemente location and decrease hours for employees at the Cardiff location.
She added that in the future, it might be difficult to reopen the location in San Clemente. However, Fischer said she thinks the location in Cardiff, which is 25 years old, will be fine.
"One thing I do have to say where we've seen the most support and help is from the Cardiff community, like people are coming in and trying to support (us)," she said. "It's been heartwarming in that aspect that the community is really trying to help out."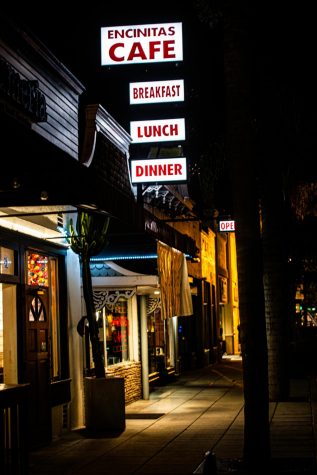 Scott Steele, the managing partner of Eve Encinitas, said his restaurant has also moved to takeout and delivery. He said they have lost 94% of their business and have been forced to cut employees' hours by 90%.
"Right now, we're only in business to provide hours and payroll for our staff," Steele said. "We can't pay rent, we can't do anything right now. It's purely to provide jobs for our employees."
He added that the vegan restaurant has enjoyed being a space for the community and community events, and he said he hopes it becomes that space again in the future.
"We're really hoping that through the support of our government and community we'll be able to be here for a long time after this is all over," Steele said.
However, some businesses have been forced to shut their doors completely. Encinitas Cafe, which Debbie Zinniger has run for almost 31 years, has closed entirely for the duration of the crisis.
Zinniger said even though they're closed, customers have continued to help.
"I have some amazing customers," she said. "Some came and bought gift certificates … Different customers come in and say please spread this to my employees that I know really (need) it … That part's been really nice."
Zinniger's son, Eric Soto, who is the manager of the cafe, added that they expect business to be slow when they first reopen.
"A lot of people are losing money (and) don't have money to go out," Soto said. "And also the fear. We would like them to … allow us to reopen (when) everybody is confident when they do go out."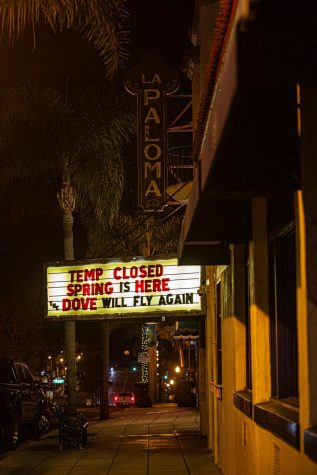 Small businesses in Encinitas have been particularly affected by the shutdown, said Sherry Yardley, acting CEO of the Encinitas Chamber of Commerce.
"It's still going to be quite a struggle to build their businesses back up," she said. "I think that the consumers would have a hard time going back out there right away."
Annika Walden, executive director at Leucadia 101 Main Street Association, said the shutdown has also hurt 1099 workers, or self-employed independent contractors, who aren't able to get the same employment relief and financial help as typical employees.
Scheduling appointments in advance can be particularly helpful for these service-based businesses, Walden added.
Alison Wielechowski, program director of the Cardiff 101 Main Street Association, said it is working with the other Main Street associations and the Encinitas Chamber of Commerce to help businesses in the area.
The organizations are encouraging people to support restaurants by purchasing gift cards or buying takeout, if they feel comfortable, Wielechowski said.
"If you can't do it right now … then after this is over, make sure you're trying to go and support the places that you want to see open," she said. "Because without the patronage, then they're not going to make it necessarily."
The Encinitas Chamber of Commerce is also working with other entities to get necessary information and pass it along to small businesses, Yardley said.
Irene Pyun, executive director of the Encinitas 101 Main Street Association, said the Main Street associations have been working with the Cardiff-by-the-Sea Foundation and the Harbaugh Foundation to create the Encinitas Small Business Support Fund, which they launched Wednesday morning, March 25.
The organizations aim to raise $100,000 for the fund, according to a news release from the Cardiff-by-the-Sea Foundation. Businesses will then be able to apply for grants ranging from $2,000 to $10,000.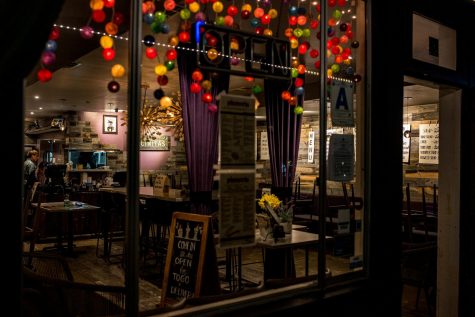 Walden said she helped create the fund to reduce the red tape small businesses face when trying to get other types of funding.
"I think with the federal funding and state funding, it's such a long application process," she said. "And there's so many people applying at this point that those businesses that really need the cash now in their pockets to be able to pay rent and to be able to keep their employees (won't be able to get it)."
As both executive director for Leucadia 101 and president of the Cardiff-by-the-Sea Foundation, Walden said she was able to leverage her position to help create the fund for businesses.
"(I) realized that I have this network of people and I had a feeling Joe Balla, who is the chair of the Harbaugh Foundation, would be interested in supporting local business," she said. "So I called him and he was on board and we made the website in one day."
Despite the hit to businesses, she added that she thinks the Encinitas community is resilient.
"I think that's what makes us so special in Encinitas; we really do an amazing job of taking care of one another," Walden said. "And so I'm hoping that this is just another one of those times that we'll be here for one another."
Julia Shapero is an Encinitas freelance writer
encinitas current, cardiff current