If you felt a jolt around 1 a.m. Tuesday, Aug. 29, it was indeed a small earthquake.
The quake, which registered 3.6 magnitude, struck 28 miles east of San Clemente Island at 1:05 a.m., according to the U.S. Geological Survey.
The Southern California Earthquake Data Center at Caltech recorded two smaller aftershocks soon after: 1.59 magnitude at 1:08 a.m. and 1.43 magnitude at 1:53 a.m.
Although reports of the main jolt being felt in North San Diego County were spotty, residents across the region, as far as South Bay, reported feeling it, according to social media reports.
Even though the quake was off the coast of Oceanside, OsideNews and North Coast Current readers' reports of it being felt ranged from several "nope" responses to feeling a sharp jolt.
"Yes," one Oceanside resident wrote on OsideNews' Facebook page. "Big shake after a loud snapping sound."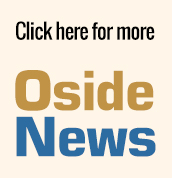 Residents in Vista and elsewhere also reported being woken up by the temblor. The USGS "Did You Feel It?" map showed reports of weak to light shaking in Oceanside, Carlsbad, Encinitas and communities south; San Marcos, Vista, Escondido and communities east. Communities in southern Orange County also felt light shaking.
According to the Southern California Earthquake Center at USC, the intensity of an earthquake's feel can depend on the composition of the ground its waves pass through.
"As the waves pass from harder to softer rocks and slow down, they must get bigger in amplitude to carry the same amount of energy," the center's website explains. Thus, shaking tends to be stronger at sites with softer surface layers, where seismic waves move more slowly."
On Aug. 20, as Tropical Storm Hilary passed over Southern California, a 5.0-magnitude earthquake struck near Ojai. Scientists reported that there was no link to the timing of the quake and storm.