For as much as she became known as "Hollywood's most beautiful woman," there was much more to the glamorous Hedy Lamarr than just her stunning good looks. Put it this way: without her, there might not be any of today's Wi-Fi, Bluetooth and even smartphones as we know them … not to mention her contribution to winning a world war.
Born Hedwig Eva Maria Kiesler to a Jewish family on Nov. 9, 1914, the world would come to know her as the beautiful and sultry "Hedy Lamarr." Her early and brief film career in Germany included controversial nude and lovemaking scenes in the 1933 film "Ecstasy."
In the 1940s, Lamarr was one of Hollywood's most sought-after leading ladies. But away from the cameras, her passion for innovation spawned the wireless communication technology we take for granted today. She is credited with inventing what we know today as Wi-Fi for our internet services.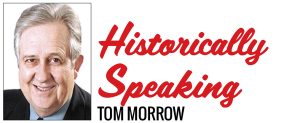 Lamarr was one of the great beauties on screen but became an important inventor who greatly aided the Allied effort during World War II. The basic electronic premise of her communications system is still in use today.
In 1933, Lamarr married her first of six husbands, Max Mandl, a wealthy Austrian military arms merchant, who was very controlling. She often would accompany Mandl to business meetings where he conferred with scientists involved in military technology. These conferences became her introduction to the field of applied science that nurtured her talent in the scientific field.
Mandl, himself half-Jewish, often entertained Adolf Hitler and Benito Mussolini at dinner parties and sold arms and munitions. After escaping her husband in 1937, Lamarr fled to Paris where she met MGM's mogul head Louis B. Mayer, who signed her to a contract. Wanting to make her name more appealing to American audiences, Mayer changed it from Eva Maria Kiesler-Mandl to "Hedy Lamarr." With MGM, she made 25 films. After leaving MGM in 1945, she had her biggest success in Cecil B. DeMille's 1949 Paramount film "Samson and Delilah," with Victor Mature.
She would go to star opposite some of Tinseltown's most iconic leading men and socialize with the likes of President John F. Kennedy and business magnate Howard Hughes.
As with many female roles at the time, Lamarr's celluloid career often depended on her looks. She is still famed for performing what is regarded as being cinema's first ever on-screen depiction of a female orgasm in one of her earliest movies, the 1933 film "Ecstasy." It was a film banned in America for decades.
Of all the many parts played by Hedy Lamarr during her glittering Hollywood career, none can be quite as inspirational as that which most people know least about … her life away from the cameras. At the beginning of World War II, Lamarr helped the U.S. war effort by selling War Bonds, but more importantly by using her scientific knowledge.
Lamarr co-invented technology for "spread spectrum" and "frequency hopping" communications with music composer George Antheil. The new technology became important to America's military during the war because it was used primarily in controlling torpedoes.
The 2017 documentary film "Bombshell" was ironically called that to comment about Lamarr's inventions.
"Inventions are easy for me," the Austrian-accented LaMarr is quoted as saying in the documentary. "I don't have to work on ideas, they come naturally."
Among Lamarr's earliest inventions was an improved traffic signal and, something seemingly out of Central Casting, she developed a carbonated beverage.
The U.S. Navy used her WWII version of frequency hopping in 1962 during the Cuban Missile Crisis. Today, Lamarr's inventions have been incorporated into the modern Wi-Fi, CDMA and Bluetooth technologies. In 2014, Lamarr and Antheil were inducted into the National Inventors Hall of Fame.
Off-screen, Lamarr's life was sometimes turbulent and often shrouded in scandal — she was married and divorced six times. But when the cameras stopped rolling, her passion was for science, innovation and invention.
Lamarr's later years were not happy ones. In 1966, she was arrested for shoplifting in Los Angeles and again in Florida. She died in Casselberry, Florida, on Jan. 19, 2000, at age 85.  Her ashes were spread in the Vienna Woods of Austria. In 2014, she was given an honorary grave in Vienna's Central Cemetery.
Today, Hedy Lamarr continues to live on with the Internet streaming Hollywood's films of yesterday. It's fun to watch them and marvel at how her legacy still contributes to our world.

---
Tom Morrow is a longtime Oceanside-based journalist and author.
Columns represent the views of the individual writer and do not necessarily reflect those of the North Coast Current's ownership or management.