Today's humorless "woke" culture makes it almost impossible for anyone to poke fun at anyone on the political spectrum without being shouted down by some portion of the population. That is to say, it's a good thing Will Rogers isn't tossing off his incisive barbs these days when so many folks search for reasons to be offended.
He was born Nov. 4, 1879, in the Cherokee Nation of Indian Territory, now Oklahoma, and fashioned a life as a cowboy, vaudeville performer, stage and film actor, humorist, newspaper columnist and social commentator.
Rogers often quipped that his ancestors did not come over on the Mayflower, but they "met the boat."
He traveled around the world three times, made 71 movies (50 silent films and 21 talkies) and wrote more than 4,000 nationally syndicated newspaper columns. By the mid-1930s, he was among the highest paid Hollywood stars. During the '30s, he poked fun at Prohibition, politicians, gangsters, government programs and a host of other controversial topics in a way that found general acclaim from a national audience.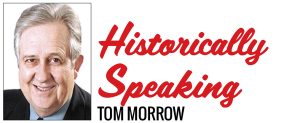 He often proclaimed, "I am not a member of an organized political party. I am a Democrat."
In 1901, he and a friend went to work as cowboys in Argentina before setting sail for South Africa, where he was hired at a ranch. It was there he started his show business career as a trick lariat roper in Texas Jack's Wild West Circus.
That's where "I learned the great secret of show business — knowing when to get off the stage. It's the fellow who knows when to quit that the audience wants more of."
He took his roping act to Australia and returned to the United States in 1904, appearing at the St. Louis World's Fair before joining the Vaudeville circuit, which led him to New York's Ziegfeld Follies on Broadway.
In 1918, Hollywood producer Samuel Goldwyn gave him a three-year contract at triple his Broadway salary. At the same time, Rogers was on his lecture circuit and wrote his New York Times syndicated column, "Will Rogers Says," which reached 40 million readers daily. His newspaper column expressed his traditional morality and belief that political problems were not as serious as they sounded. He urged isolationism for the U.S.
During his lectures, Rogers quipped, "A humorist entertains, and a lecturer annoys."
From 1929 to 1935, Rogers' radio broadcasts, sponsored by the Gulf Oil Co., were ranked among the nation's top programs. Today, Gulf Oil would be out of business … if they already aren't.
He was an aviation enthusiast and promoted a military air force along with his friend, U.S. Army Gen. Billy Mitchell.
It was reported recently on a "talking heads" network show that a full elevator in an office building heard a man in the back of the car jokingly remark, "Lingerie," "Cosmetics," "Jewelry" whenever the car stopped on one of the floors. A woman passenger went to the building's management and complained she was "shaken," "upset," "distressed," and unduly "offended" by the gentlemen's quip and was considering a lawsuit. And it nearly always drew a chuckle with no lawsuits … as far as I know.
I remember when building elevators were operated with people who announced each floor in such a way. The gentlemen's remark was obviously made by someone who remembered those days of yesteryear … It was part of our society.
Although Rogers supported President Franklin D. Roosevelt's New Deal, he easily joked about it, saying, "Lord, the money we do spend on government. It's not one bit better than the government we got for one-third the money 20 years ago."
Rogers increasingly expressed the views of the common man and downplayed academic credentials, noting, "Everybody is ignorant, only on different subjects."
In 1935, Rogers asked his friend, famed aviator Wiley Post, to fly him to Alaska to search for new material for his newspaper column. On Aug. 15, they left Fairbanks for Point Barrow. About 20 miles southwest of their destination, they landed to ask directions. Upon takeoff, the engine failed and they plunged into a lagoon. Both men died instantly.
Before his death, Oklahoma commissioned a statue of Rogers, representing the state in Statuary Hall of the U.S. Capitol. Rogers insisted his image be placed facing the House Chamber so he could "keep an eye on Congress." Capitol tour guides say each president traditionally rubs the statue's left shoe for good luck before entering the House Chamber to give the annual State of the Union address.
Many landmarks are named in the humorist's honor: Will Rogers World Airport in Oklahoma City, the Will Rogers Turnpike between Tulsa and Joplin, and 13 Oklahoma public schools. U.S. Highway 66 is known as The Will Rogers Highway with a dedication plaque at the roadway's western terminus in Santa Monica. There have been two U.S. postage stamps dedicated in his honor and the U.S. Navy's Benjamin Franklin class submarine, USS Will Rogers, was launched in 1966.
Among his more widely known sayings are, "All I know is what I read in the newspapers," and "When I make a joke, no one gets hurt; when Congress makes a joke, it becomes law."
Probably his most famous quote is the epitaph on his Claremore, Oklahoma, tombstone: "I never met a man I didn't like."
---
Tom Morrow is a longtime Oceanside-based journalist and author.
Columns represent the views of the individual writer and do not necessarily reflect those of the North Coast Current's ownership or management.