Major construction and renovation projects are underway as MiraCosta College's fall semester approaches, with new buildings and significant upgrades to the Oceanside campus set for completion in the next two years.
"The transformation of our college facilities plays a crucial role in workforce development and creating career opportunities for students," Tim Flood, the college district's vice president of administrative services, said in a district public relations story highlighting the extensive work. "It's essential that our facilities are state-of-the-art and equipped with cutting-edge resources that foster innovation and excellence."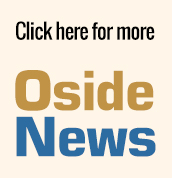 Six new buildings are slated for the main Oceanside campus in addition to renovation of existing facilities. Major construction at MiraCosta's San Elijo campus in Encinitas is largely complete, according to the district. At San Elijo, future remaining projects include a recycled water system and an updated walkway from the new Student Services Building to Manchester Avenue.
The work is possible thanks to the 2016 voter-approved bond Measure MM, which secured  $455 million for key improvements in such areas as career training facilities for health care, science, technology and other trades.
"We are indebted to North County taxpayers for supporting Measure MM," Flood said in the district's news release. "They have been essential partners in bringing about these critical facility transformations."
The MiraCosta Community College District covers coastal North San Diego County from Oceanside and part of Camp Pendleton to Del Mar and Carmel Valley.
Major work at the Oceanside campus includes:
The Theresia M. Heyden Nursing and Allied Health Building: Named for a longtime Oceanside resident, philanthropist and former nurse, the $28.8 million facility will provide centralized facilities for the college's Allied Health programs.
Health and Wellness Academic Hub: The Heyden building is part of a greater $41.1 million complex that will include a new gymnasium complex to replace the present outdated gym. The complex will include a Kinesiology, Health, and Nutrition (KHAN) Building, Wellness Center and other facilities. athletics instruction spaces, and modernized gymnasium. The complex is expected to be open by summer 2024.
Student Services: The new $62.1 million complex will bring together student service functions into a single location, including a new Veterans Center. The two-story building will be located on the former site of Pedley Park. Completion is expected by spring 2024.
Chemistry and Biotechnology Building: The $46.9 million project will provide new chemistry and biochemistry labs in addition to two 40-seat flexible classrooms. The building will also have space for growth as the district's biotechnology program expands into a bachelor's degree program. Completion is expected by summer 2024.
Media Arts Complex: The $21.7 million project is currently under construction and will include a new art gallery, two computer labs, a film studies classroom, student study and collaboration spaces and extensive display areas for art, among other features. Completion is expected by spring 2025.
Existing campus facilities are receiving upgrades as well.
Planning is underway for lighting upgrades for the current theater. The campus library will receive mechanical, electrical and plumbing updates in addition to new interior layouts to accommodate changing program needs. New campus signage and updates to Americans with Disabilities Act accommodations are also underway.
Construction is also scheduled to begin in about a year on other replacement and renovation projects, according to the district. Work should start by fall 2024 on the Communications Hub, Student Center, and Social Justice and Equity Centers.
"We want to be the destination college where students can differentiate themselves academically or develop a competitive edge by gaining skills in state-of-the-art classrooms and labs that mirror real-world environments," Flood said in the district's news release. "And we're doing that thanks to Measure MM."
Measure MM projects for the Community Learning Center in Oceanside are complete, according to district officials. Renovations of Buildings 100 and 200 are currently in the Division of the State Architect closeout process.
More information about ongoing and completed projects can be found at MiraCosta's Projects by Campus website.