Although the Old California Coffeehouse is the oldest (and only) independent coffeehouse in San Marcos, its new owners have freshened the pot by serving up free Internet, an expanding menu and a place where many customers are known on a first name basis.
Owners Kimry Wells and Kenny Morris took over the "Old California" last September when Wells heard it might be up for sale. She owned a coffee kiosk in Sorrento Valley for six years and, wanting to expand, jumped on the opportunity.
"I came and introduced myself to the owner and we went to 'happy hour' for about three months and she decided to sell it to me," laughed Wells, "so she never really put it on the market."
Wells showed the space to her brother-in-law, Kenny Morris, who agreed that this was the perfect business venture for these two future partners.
Since their ownership, Morris and Wells have retained much of the spot's homey appeal while making their own adjustments. Switching to a nearby coffee supplier, La Costa Roasters, was one of the first changes.
"I like to use a local roaster instead of getting it shipped in, so it's fresh  roasted every week," said Wells. Knowing La Costa Roasters from her kiosk days, Wells' coffee-world connections were a major benefit from the get-go, along with an irreplaceable "outside" source.
Tonya Buchanan sold Wells and Morris the coffeehouse and still remains a vital part of the business.
"She's just a wealth of knowledge. She knows everybody and everything about this place," Wells continued. "She's still a very fundamental part of who we are." Not only does Buchanan offer wisdom from 13 years of experience at that location, but she is also their vegan chef.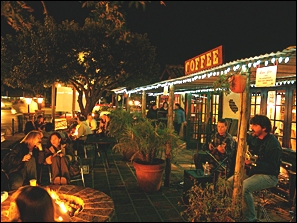 "We think a lot alike. She's a vegan. I'm vegetarian, so we kind of have that same line," Wells noted. "It's nice to have Kenny's because he's the meat-eater."
Morris has been an influence in the addition to more carnivorous options on the menu, as they expand into paninis and more sandwiches.
"We're trying to pick up the café/deli end of that where you can get the quick, simple sandwich when you don't want a real heavy meal," Wells said about carving their niche in Restaurant Row's long list of diverse fare.
Although still looking for their place amongst the eateries, the "Old California" has stood out by defining itself with its no-smoking policy extending to the outside patio, as of last November. Fire pits lining the patio draw clientele to enjoy the outside air without the smoky setting.
"We do have a smoking area. We want everyone to enjoy the experience and go to the smoking area and then come back and enjoy the experience," Wells explained.
Morris and Wells have also embraced another interesting philosophy unique to the coffeehouse persona.
"We're noticing more and more we're getting a lot of families," Wells said. "We want to be family oriented, come and hang out with your friends — we invite that kind of environment."
Since many people bring their children out to dinner in Restaurant Row, it made sense for "Old California" to embrace its younger customers.  Offering a multitude of dessert drinks and hot chocolate, it has become a natural fit.
The older kids seem to like it too. "We draw from both colleges and a lot of high school kids," Morris explained. "I want it to be a place that you feel like you want to hang out. You just don't want to get your drink and run."
Wells then added, "Use our coffee for relaxing instead of getting you to the next appointment."
Palomar College student Erin Frank unwinds here often and noted, "When my friends and I get out from school, we come over here and usually share a cup of coffee because of the convenience, where it's located and comfy seating."
Morris and Wells also find themselves meeting up with old friends here, since both were raised in the area.
"I run into people all the time that I grew up with," Wells said.
Patron J.D. O'Dell also observed the shop's ability to spur reunions between old acquaintances.
"We always run into people we've not seen in quite a while, but have known for years," O'Dell said.
Congregating friends, students and families bring a certain warmth and familiarity to the coffeehouse. Truly representing a neighborhood meeting place, several customers were addressed by first name throughout a recent interview, including their resident customer/ piano player, Alan, who can be cajoled into hitting the keys. Morris also chooses several styles of guitarists (retro jazz, country alternative, flamenco) to play Friday and Saturday evenings.
Blazing their own path in a corporate coffee world, Morris and Wells rely on individual elements to keep their customers coming back.
"Most people will opt to the independent coffeehouse if they're aware of it. You do get better service, people care," Wells said. "We're not restricted to a menu or a corporation. If we've got the goods to stir it up for you, we're all over it."
This consistent personal appeal has brought the community in for a refill. With bold ideas about smoking, menu evolution, music and free internet, the Old California Coffeehouse has gained a neighborhood family of faithful clientele.
"I want it to be someone's favorite place to hang out. I want them to feel that they're more my guest than my customer," Morris said, "that they're in my house and I'm serving them."