Proclamation to honor late Del Mar community activist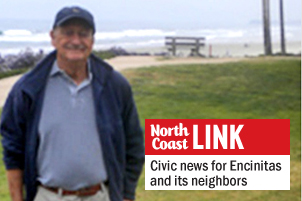 The celebration of Louis "Lou" Terrell's life, held recently at the Del Mar Powerhouse, was bursting with family and friends who came to say goodbye.
"The service was set up for about a hundred people," said close friend and county Supervisor Dave Roberts, "but there were about 400 people there."
The people who came to pay tribute to the late icon of the community filled the aisles, balcony and stairwell, and some even had to stand behind the speakers at the service because there simply wasn't any room left. Others had to leave because they couldn't get in.
But they'll have another chance to honor the former Del Mar mayor Tuesday evening when the Del Mar City Council issues a proclamation in Terrell's name. The proclamation will be handed to the family at 6 p.m. on Jan. 21 in Del Mar City Council Chambers. The public is invited to attend.
"It's to recognize Lou for his wonderful service to Del Mar," Del Mar Mayor Lee Haydu said.
Terrell died Jan. 3 after being struck by an Amtrak train near 11th Street in Del Mar. He was 75 years old.
Haydu said Terrell was a genuine, caring person who always gave encouragement to help people move forward.
Terrell seemed to have packed several lifetimes into one, mostly in service to the community of Del Mar, but also to San Diego County and beyond, to Southern California.
He was a political science professor at San Diego State University from 1969 to 2003, where he also chaired the department twice for a total of 12 years. He created the Louis M. Terrell Scholarship for political science majors at SDSU before he retired.
Putting his expertise into practice, he was a city councilman before becoming Del Mar mayor in the 1980s.
Terrell was also co-founder of the Del Mar Foundation, which sponsors community events such as a Halloween bonfire, twilight concerts and a children's holiday party. In addition to bringing the people of the city together, the Foundation also strives to preserve the environment by improving beaches and parks.
In addition to helping the community of Del Mar, Southern California also benefited from his civic involvement. He was the former president of Planned Parenthood of San Diego and Riverside Counties and a board member of the ACLU of San Diego and Imperial Counties. He was also a board member of the Foundation for Change, a progressive group that seeks social justice and equality.
"Lou accomplished so much; he was an unassuming man who would do anything for you," Roberts said.
Terrell was walking his dog Abe on Jan. 3 when the Labrador was spooked by the horn of the oncoming train and ran toward the tracks, according to reports. Terrell tried to get the pet out of harm's way and was struck by the train. He died at the scene.
He is survived by his wife, Carol Isackson, his son, Joel Isackson, and daughter, Amy Isackson.
Donations can be made in Terrell's name to Planned Parenthood or the ACLU.
Helen Hawes is a North County freelance writer