An effort to find innovative and sustainable ways to preserve Oceanside's sandy beaches recently took a step forward with the announcement of finalists for a project design competition.
The city, in partnership with Resilient Cities Catalyst and GHD, announced the finalists July 31 after a global search for teams to take on RE:BEACH, a Coastal Resilience Design Competition with a collaborative approach, according to a city news release.
The finalists are SCAPE Landscape Architecture of New York, Netherlands-based Deltares, and International Coastal Management of Australia. Each firm, along with their respective partners, made proposals to city officials for novel ways to replenish and preserve Oceanside's beaches.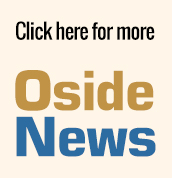 Residents and other project stakeholders are invited to three workshops to share feedback on the design proposals created by the three finalists. The workshops are scheduled for Aug. 29, Oct. 17 and Dec. 13. Times and locations for the workshops have not yet been set.
The City Council will vote on a final approach in early 2024.
"We are thrilled with the interest and participation from global climate adaptation and coastal resilience experts and can't wait to see what our finalists come up with as potential solutions over the coming months," Oceanside Coastal Zone Administrator Jayme Timberlake said in the city's news release.
The finalists have extensive experience in ecological preservation and climate change mitigation, according to the city. The firms will develop conceptual plans and strategies for sand retention that will allow for the preservation of sand along Oceanside's shoreline and reduce the pressures of environmental changes on infrastructure.
"The SCAPE, Deltares, and International Coastal Management teams know that solutions of the past won't work in the 21st century, which is why they'll work to find novel solutions to mitigate erosion from the compounding impacts from climate change, the Oceanside Harbor, and nearby industrial development," the city's announcement stated.
The finalists met in Oceanside on July 10 to visit the project site and gather more information about the area's coastal erosion challenges.
"This is far more than just a technical solve," Sam Carter, Founding Principal of Resilient Cities Catalyst, said in the city's news release. "By including the points of view of industry leaders from different parts of the globe, these competitors are taking part in a big picture approach that will set our beaches up to evolve with the changing climate."
Information and updates about RE:BEACH are available at rebeach.org.