'MMA is our generation'
Although it's still illegal in many states, local trainers and fighters say the sport of mixed martial arts is more popular than ever, and will soon overshadow more traditional forms of fighting.
"Boxing is your grandfather's sport," said Scott Rose, a professional fighter who has studied mixed martial arts for nearly 20 years. "MMA is our generation. In five years or so, we'll rival stuff like the Super Bowl for audiences."
The sport found popularity in the U.S. after the first Ultimate Fighting Championship was televised on pay-per-view in 1993, but its history dates back thousands of years.
The birth of MMA is widely attributed to the Greek, who called it "pankration." The World Pankration Federation's Web site says it "was considered the ultimate combat sport of ancient Greece" and was used to train armies in hand-to-hand fighting.
Modern-day MMA fighters train using techniques from boxing (including kickboxing and Muay Thai), wrestling (including Greco-Roman and Judo) and Brazilian Jiu-Jitsu to get ready for competition. They're considered some of the fittest athletes in the world, but Rose said many spectators still think of MMA as nothing more than a "blood sport."
"We try very slowly to educate them," he said. "There are pages and pages of rules that we have to follow."
"They're just uniformed or misinformed," Rose added.
Nonetheless, he said the situation has improved for fighters since the 1990s, when the U.S. public got its first glimpse of MMA.
"Fifteen years ago when this stuff really started in North America, it was illegal everywhere. It was more of a spectacle," Rose said.
He said the sport is still being perfected, but is becoming more widely accepted as it gets more media coverage.
"It looks like fun," Rose said. "The more people are becoming aware of it, the more they want to try it out."
Last December, Rose, 27, competed in the first-ever professional cage fight in Tijuana, Mexico.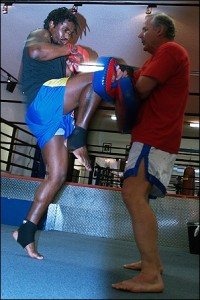 In a cage match, two fighters compete inside a metal cage that somewhat resembles a boxing ring in size. In professional competitions, a cage cannot exceed 32 square feet, whereas a boxing ring cannot exceed 24 square feet, according to the World Boxing Association's Web site. As in boxing, fights are monitored by a referee, who stays inside the cage at all times to stop the fight if one fighter becomes unable to properly defend himself.
Fighter Jonathan Romero, 31, of Oceanside, was set to fight Rose in a cage match April 14 in Tijuana. An injury sidelined Rose, but at press time Romero was scheduled to face Brazilian fighter Iure Silva Leal instead.
Romero, who began studying martial arts when he was 8 years old, says announcers and television programmers often make televised fights more dramatic to entertain viewers.
"I don't think it's a blood sport. We have rules in place," he said. "But in televised fights it's more of a show because that's what the crowd wants to see."
Rose said although televised fights are good for showing people how competitions are won or lost, there is much more to MMA than beating people up and winning titles.
"There's a lot of technique and a lot of training," he said. "In a lot of situations it's as much about heart as anything."
Marshall Hamil, who teaches MMA in Carlsbad and Encinitas, said he agrees with Rose. He said the sport is attractive because almost anyone with a good work ethic can be competitive.
"Certainly talent is involved," Hamil said, "but you don't have to be the biggest or the smartest guy out there. If you wanna do it, you can."
Hamil, who fought professionally for six years, won an International Kickboxing Association Heavyweight Championship in 1998. He said MMA is definitely on the rise, and will only continue to grow as more people learn about it.
"I think it could really take off and take over traditional boxing," he said. "I think people are starting to realize that it's here to stay."
Romero said Rose and Hamil are right.
"It's got no place to go but up," Romero said. "It's unbelievable how much it's already grown. It's only going to continue to grow."
Hamil, who has trained and fought for nearly 30 years, said he hopes to see more changes as the sport goes mainstream.
"What I'd really like to see is announcing the score after each round," he said.  "I think it would be helpful to fighters and to the trainers who are telling their guys to hold on, that they're winning the fight."
Rose said such a scoring system is on the way.
"I have no doubt that will happen as the sport progresses," he said.
Under the current system, most MMA fights are decided by three judges. The judges award 10 points to the winner of each round, and the loser of the round can receive nine points or less. In most cases, three rounds are fought, but certain title fights are sanctioned for five rounds. The score is not announced until the fight is over.
In addition to the scoring changes, Rose said corporate sponsorship and better pay for fighters are on the horizon as well.
"The fighting sports haven't really started paying people enough so it can be our livelihood," Rose said.  "One of the most interesting thing about mixed martial artists is 95 percent of us work nine to five."
But Rose, who recently spent eight months in Thailand perfecting his defensive techniques, said his reasons for studying MMA don't include making a fortune anyway.
"It has to do with testing myself and constantly trying to improve myself," he said. "I've found something I have a passion for and I feel obligated to do it."
Rose isn't the only fighter who is driven by more than the salary.
"I've always loved competition," said Romero, who posted a 23-0 record as an amateur fighter. "MMA gives me the chance to go out and prove to myself and everyone else that the style of martial arts I study is superior to the rest."
Romero said he wants people to know mixed martial artists are not bloodthirsty fighters, but ordinary people who practice the sport as a way to push themselves harder in life. "Normally when I'm out at a pub or something and I tell people I'm a cage fighter, I get the looks like 'you gotta be kidding me. You don't strike me as that kind of person.'
"But what most people don't know is we're genuinely nice people," Romero said. "We're businesspeople and college grads who are successful at what we do, just like anyone else."