Old Cal, new pal: Shop owners building connections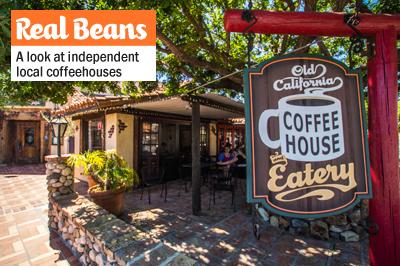 Only a year and a half after taking over ownership of the Old California Coffee House and Eatery, Oceanside residents Giovanna and Craig Garcia are already leaving their mug-filled mark on San Marcos. Wooing the city of San Diego in a short period of time, they've claimed Palomar College's 2011 "Talk of the Town" award for customer service and San Diego's 2011 "Best Coffeehouse" given by KGTV 10News, which was an unexpected honor.
"San Marcos is a city that's kind of been overlooked compared to downtown, so to have our little San Marcos coffee shop beat out the ones downtown, we were pretty proud," Garcia said.
The Garcias' success stems from their fervent sense of community, respect for the landmark which they purchased and imparting the importance of family into the business.
"I wanted to work more with people … I have a little 4-year-old and I wanted a place that he could come where it's family-friendly. A place when we have entertainment at night, he could come, play little games and have fun – something that's more warm and family oriented."
This included adding story time the second and fourth Thursday of every month at 9:30 a.m. and revamping the interior. The fresh coat of paint and new decor, including framed record albums and an ancient TV set used as the busing station, didn't wipe away the homey feeling that had been nursed here since it originally opened in 1990, but instead added an upbeat and updated, fresh look. The same went when it came to revising Friday and Saturday nights' musical entertainment.
"Music's been a tradition here and we want to keep that tradition, but we've been more active to bring two, three, four-people bands, so it brings more energy, where before it was more of solo or smaller bands," Garcia noted. Musical acts ranging from rock to bluegrass to Celtic folk perform until 10 p.m.
"We're still low-key because we go with the coffee shop theme, so we're not rock stars, but just a little more energy. It's kind of fun because my husband says, 'I feel like I'm running a bar, but without the alcohol.'"
But who needs alcohol when they're serving region-specific beans roasted in small batches, along with a list of specialty coffees such as Almond Joy and Crème Brulee? The fact that their beans are all locally roasted at La Costa Coffee Roasting resonates with Old California for more than just the flavor.
"I try to get everything local as much as possible. I get my avocados from a local farmer in Vista," Garcia said. "I'm a 'mom and pop' and I believe that you should give out what you want to receive. I want other people to support me, so I try to support the other mom-and-pops."
Garcia continued: "We need to do that because the big machine is getting so big and kind of bulldozing everybody over. I think if we don't stick together and support one another to keep the local economy going on and keep the local community, pretty soon it's going to be stone-cold buildings and cookie-cutter everywhere. We lose our characters."
But here, even the menu flaunts some individual character, while trying to appease everyone.
"We cater to a lot of vegetarians and have vegan options and gluten-free, so we attract the healthy families," Garcia added. "It also makes it easy for people that have meetings who have a couple people that are vegans, they know if they come here that everyone will be satisfied."
Customer David Preciado, who comes for the loose-leaf tea, cookies and free wi-fi, grew up in North County and moved back last year. He remembered when Old California first opened in 1990 and cited the noticeable differences upon his return.
"The customer service is really great right now. Everybody's super friendly. There's a lot of energy behind the bar and that's the extra little touch," Preciado said.
Longtime customer and Palomar College student Alaina Ognibene has also has seen a positive influence since the ownership change.
"They put themselves into the community more," Ognibene noted. "I always talk to her (Giovanna). I like that she's always in here and upbeat and tries to remember everybody."
The importance of seeing their patrons as people instead of paychecks has been the primary focus since the Garcias took over in January 2011.
"It's not just the cup of coffee I give them, it's more the genuine caring of 'I see you all the time. I know you. How are you?' And I try to make sure I leave a little bit with them when they leave me," Garcia said.
Old California Coffeehouse is currently in the running for "Best Coffeehouse" in the Union Tribune's "Best Of" awards. Here's the link to vote: www.utsandiego.com/bestof/
Lauren Ciallella is a San Diego freelance writer