The city of Oceanside brought back a community electric shuttle service to the downtown area at the start of the month after favorable results during a pilot program.
Residents used the gO'side service just as much as visitors, according to pilot program data tracked by the city. Restaurants, beaches and retail shops were the most common destinations.
"We are so excited to bring back the gO'side, which will provide Oceanside residents, visitors and workers a safe, efficient transportation option to get around downtown," Oceanside Mayor Esther Sanchez said in a city news release. "The pilot program was very popular last year, not only for its contribution to the environment and helping to mitigate parking and traffic congestion, but it's also really fun to ride."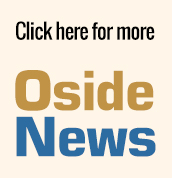 The city contracted with a firm called Circuit in 2022 to run the pilot program using federal Rescue Plan Act funds. The current shuttle service will run for two years in a partnership between the San Diego Association of Governments, the city and Visit Oceanside at a cost of $573,000 per year.
Visit Oceanside is contributing $100,000 and SANDAG is providing $250,000 in matching funds, according to the city, which will provide the remaining funding.
"We heard the community loud and clear about the need for this service and through our great partners, we were able to bring it back," SANDAG and San Diego County Board of Supervisors Chairwoman Nora Vargas said in the city's news release. "Our goal is to support equitable initiatives that provide affordable and accessible transportation options while helping clean up our air and easing congestion."
The five-passenger shuttle, called a neighborhood electric vehicle, launched July 3 and will run noon-10 p.m. Monday through Wednesday and 10 a.m.-10 p.m. Thursday through Sunday. Hours will be adjusted December through April depending on demand.
Users can hail the gO'side shuttle through the Ride Circuit smartphone app by choosing Oceanside for the location. The rate is $3 per rider, capped at $6 for groups of more than two, according to the city.
The downtown service area includes Oceanside Harbor south to Vista Way, west of Interstate 5, and to the East Side neighborhood and Country Club Lane.
The Oceanside shuttle is among the first such electric-shuttle pilot programs in the county to launch under SANDAG's Flexible Fleets program, according to the Oceanside officials.
"The gO'side shuttle is a valuable program that aligns with our goals for responsible visitation and destination stewardship," Visit Oceanside CEO Leslee Gaul said in the city's news release. "This earth-friendly, last-mile solution helps support local businesses while offering visitors and locals an easy-to-use, hassle-free option for getting around."
More information is available at ridegoside.com.

---
OsideNews is an edition of the North Coast Current.