The San Diego Rescue Mission marked the recent opening of Oceanside's Navigation Center for the homeless on Thursday, Aug. 24, with tours for the media.
The complex, which had its ribbon-cutting ceremony on July 21, is owned by the city and operated by contract with the Rescue Mission.
"Our goal is not just to provide a bed for the night, but to provide our residents with the tools and resources they need to break the cycle of homelessness," Mayor Esther Sanchez said in a city news release. "By providing a range of services under one roof, we can make a real difference in the lives of Oceansiders who are struggling."
Funding for the center's operation comes from the Rescue Mission's Every Heart $5 million capital campaign, which was also launched in July. Among other Rescue Mission efforts in the county, the campaign will help fund operating costs for Oceanside's 30-day Navigation Center under a three-year contract.
"We've been preparing this expansion for three years and are excited to launch this first phase of our capital campaign," San Diego Rescue Mission President and CEO Donnie Dee said in an organization news release. "Reaching our $5 million first phase goal by the end of the year will enable us to open three new shelters, help 3,000 people transition immediately off the streets, and rehabilitate nearly 700 people so they get off the streets permanently — every year — throughout San Diego County."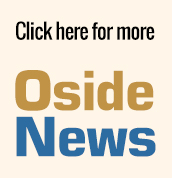 Oceanside purchased the former Ocean Shores alternative high school site at 3131 Oceanside Blvd. for the center. Complete remodeling of the facilities was funded in part by a $3.3 million grant from San Diego County and $2.25 million in federal funding secured by Rep. Mike Levin (D-49th District).
The 50-bed center provides year-round shelter, holistic services and trauma-informed care to men, women and families experiencing homelessness, according to the city and Rescue Mission. The center has a cafeteria and community spaces in addition to the sleeping quarters. Individuals staying at the center are assigned a case manager who will develop a plan to identify a path toward long-term rehabilitation and stable housing.
The center has 24-hour staffing and provides daily activities, according to the city.
"Fighting homelessness requires a holistic approach, and we're grateful that the City of Oceanside selected us to operate this facility," Dee said in the city's news release. "Our goal is to get people in this community off the streets immediately and help them determine their next step forward to staying off the streets permanently."
The San Diego Rescue Mission is a faith-based nonprofit homeless shelter and residential recovery center. Founded in 1955, the organization's current fundraising campaign also aims to fund Navigation Center shelters in National City and East County in addition to renovations to its residential rehabilitation facility in downtown San Diego.