Six men who overdosed on fentanyl were revived by first responders at Seagaze Park in Oceanside on Friday, July 14, authorities reported.
"Thanks to the quick actions of the first responders, all patients were revived with the administration of Naloxone, an antidote for opioid overdose," the Oceanside Fire Department stated in a report. "If the patients had not been treated promptly, they would likely not have survived the overdose due to the extreme effects of the drug."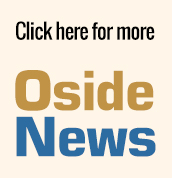 Multiple firefighter, paramedic, lifeguard and police units responded to the incident at the park, which was reported at about 4:30 p.m., located to the south of Oceanside Pier, authorities said.
After being administered naloxone, the men declined transport to the hospital for further treatment, against the advice of paramedics, the Fire Department stated.
"The Oceanside Fire and Police Departments implore the public to stay clear of drugs and encourage people to carry Naloxone to help in the event that they come across a friend or family member who has overdosed," the Fire Department stated in its report.
Naloxone can be purchased at drug stores or obtained for free through the Department of Health Care Services' website.

---
OsideNews is an edition of the North Coast Current.