Encinitas native Alyssa Spencer made Nissan Super Girl Surf Pro history Sunday, Sept, 24, when she won the event, making her the second competitor ever to win red capes on both the East and West Coasts, event organizers announced.
"Winning a Coast to Coast Cape is amazing, it's honestly a dream come true," Spencer said in an event report following her win. "I've had this event written down in my checklist of goals for a long time, pretty much since I started surfing. So, to win it feels amazing."
Spencer won the 2021 Super Girl Pro in Jacksonville, Florida, but had yet to win the West Coast prize, held annually in Oceanside.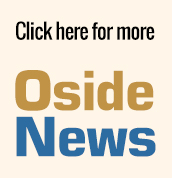 She faced nearby local and defending champion Sawyer Lindblad of San Clemente in the Final, which wrapped up the weekend-long event Sept. 22-24. Spencer's total score of 16.03 placed her first over Sawyer, who scored 14.30.
"I'm really excited to make it to the podium again," Lindblad said in Super Girl Surf Pro's event report. "And, if I make a few final heats in upcoming competitions, I will make it on the WSL Championship Tour, which is just crazy to think about."
First place takes home $8,000 and second place $4,000.
Lindblad made history last year as the youngest Super Girl Pro Surf champion at age 17 when she won in Oceanside.
Full 2023 results can be found at supergirlsurfpro.com/2023-results.