A 32-year firefighting and community-service veteran from Wisconsin has been chosen to lead the Vista Fire Department, city officials announced Monday, Aug. 7.
Gerard Washington, who most recently served as the chief for the Menomonee Falls Fire Department in Milwaukee, will start his new job in Vista on Aug. 14, according to a city news release.
"I am delighted to announce the appointment of Gerard Washington as Fire Chief of the City of Vista," City Manager John Conley said in the announcement. "His stellar track record, progressive vision, and unwavering commitment to public safety make him an invaluable addition to our community."
The hiring followed interviews that were held with city leadership and staff members as well as the community at large.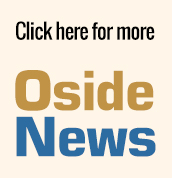 Washington was noted for his work in leading nationally recognized initiatives to encourage inclusionary recruitment practices when he served as assistant fire chief of the Milwaukee Fire Department. He also led the Fire 20/20 initiative, a program funded by the Department of Homeland Security that works to build effective service delivery to diverse communities.
"I am deeply honored to accept the position of Fire Chief for the City of Vista," Washington said in Vista's news release. "This is an amazing opportunity, and I'm excited to serve the community in this new capacity. I want to thank the City Council for their visionary hiring process and the City Manager for entrusting me with this important responsibility. Together, we'll work to ensure the safety and well-being of our residents."
Washington has extensive community service involvement, according to the city. He served on the board of directors for Diverse & Resilient, a Milwaukee nonprofit organization that addresses health disparities experienced by the LGBTQ community in Wisconsin. He also was on the St. Coletta Day School Board of Directors. Washington is also a member of several fire leadership associations.
Washington holds a master's degree in business management from Cardinal Stritch University and a bachelor's degree in public administration with a minor in psychology from Upper Iowa University. He is also a United States War College graduate in leader development for national security and strategy, according to the city.
"As we welcome Chief Washington, we are confident that his leadership will bolster our continuous efforts to provide our residents with the highest levels of public safety," Conley said. "The City of Vista looks forward to a new chapter of excellence and innovation in fire and emergency services under his guidance."