When childhood friends Andy Vasquez and Deon Dickey heard that a local institution would soon close, they knew something had to be done.
A Little Moore Cafe, owned for nearly 40 years by Chang and Misan Han, were part of a group of tenants whose building was to become a future cannabis dispensary. Among them was Leucadia Barbershop, where Vasquez worked.
"I'm a barber and a realtor," he says. "I'm close with that family. Every morning when I started my shift, I'd get a slice of bacon and toast. It wasn't really on the menu, but they would hook me up because they knew I was a neighbor."
"A ritual in my family would be a Sunday breakfast," Vasquez adds. "It wasn't every single Sunday, but honestly from age 12 to 18 they'd see me eating the same food, being the same kid just growing up. Locally, they're like everyone's parents."
Dickey, who has also been visiting the restaurant since he was a child, says that purchasing A Little Moore Cafe was special because his grandfather was a loyal patron.
"We closed the deal to buy the Little Moore on my grandpa's birthday, April 3 of this year," he says. "It's cool to keep things going for him and Andy's grandparents as well. Both our grandparents loved that spot."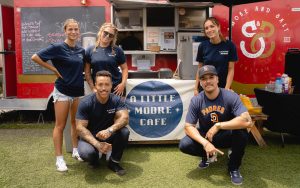 Along with serving as a firefighter with Cal Fire for three years, Dickey has also been in the restaurant industry for 12 years.
Presented with an opportunity to keep the legacy alive, the friends approached the Hans.
"Andy asked for it," Chang Han says. "I think it works."
Now, A Little Moore Cafe is operating as a pop-up brunch restaurant in partnership with The Leucadian Bar in Encinitas and Same Same in Carlsbad. For their schedule, visit instagram.com/alittlemoorecafe.
Vasquez says that businesses that have followed the pop-up concept, such as Copper Kings Burgers, have inspired them. Until they're able to find a permanent location, he and Dickey are honing their skills, creating business relationships, and bringing together familiar faces and new customers alike.
A Little Moore Cafe's menu is a mix of classics from the original restaurant, with their twist, as well as new items with some vegan, vegetarian and gluten-free options, too.
Along with adult beverages served by their partners, diners can also enjoy a cup of joe from Encinitas-based Pannikin Coffee & Tea.
"We try to be on the healthier side, but we understand that we need to make breakfast fun," says Vasquez, adding, "We have stuff people really like, and some stuff we rotate in and out."
They're joined by chef Milio Rodriguez, who is helping their vision come to light.
"He's been a super big help — we could not ask for a better chef," Dickey says, adding that Rodriguez's family also lends a hand.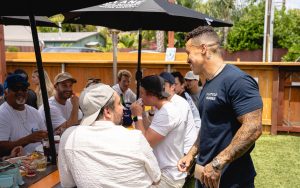 Dickey and Vasquez hope to add more days to their schedule, and they want the community to know that they're available for catering.
"The breakfast burritos have been a big hit," Dickey says. "We are going to continue this until we own brick and mortar. We aren't in a rush."
If one thing is for sure, it's that they aren't alone in their journey.
"The Leucadia concept wouldn't be possible if Jarle (Saupstad, owner of Smoke & Salt) said no," Vasquez says, explaining that they share his kitchen at The Leucadian Bar. "This is coming because people are willing to give. This is a Leucadian thing."
While the Hans are now enjoying retirement, they have continued to show support by attending the pop-up events and sharing their knowledge when Dickey and Vasquez reach out.
"My customers (were) 80 percent regular customers. It's very easy to handle people coming in. It's not a customer, it's a friend," Chang Han says. "I'm just thankful for all the customers that have come in these long years. I just thank you for those things."
Committed to keeping the spirit of their community alive, A Little Moore Cafe's new owners are happy to uphold the tradition of keeping the business with the locals.
"We're not leaving Leucadia ever," Vasquez says. "We are third generation Leucadians, we've stayed in little houses our whole lives … we're local locals. We're proud of it too, we're gonna rep it — and, go Padres!"
Charlene Pulsonetti is a local freelance writer.