From Oceanside to the open road: Kimmi Bitter's musical journey
Northern Pine Brewery beer named for performer's van
By Charlene Pulsonetti:
If you long for a fresh take on dreamy tunes reminiscent of the 1960s and '70s, and female vocals that pull on the heartstrings, you don't need Doc Brown's time traveling Delorean. Instead, look to Oceanside's Kimmi Bitter.
"I'm trying to make old music cool again," she says, adding that there is a flourishing revival of the music and intangible vibe of the time period.
As a teen in Oceanside, Bitter recalls her and her friends watching Country Music Television (CMT). It wasn't until their second and third go around that they began appreciating the performances, especially that of female musicians.
"I heard my voice in their voice," Bitter says.
Though she was enamored with the idea of being a singer-songwriter at an early age, Bitter didn't pursue music until she was 18, when she started learning guitar. And, it wasn't until she was about 30 that she considered refocusing on country music.
"I connect with old music, like the '70s and earlier," she says. "I wanted to go back to country, but it didn't sound like I remembered it."
Songs such as "My Grass is Blue" and "Broken Dreams" are reminiscent of ballads by Patsy Cline and Loretta Lynn, while the peppier "Highway Hustler" and "Work Like a Man" could fit right in at a dance hall of the past or present.
Bitter is joined by boyfriend and music partner Willis Farnsworth, whose work she describes as "full-blown '70s rock and roll, and arena rock."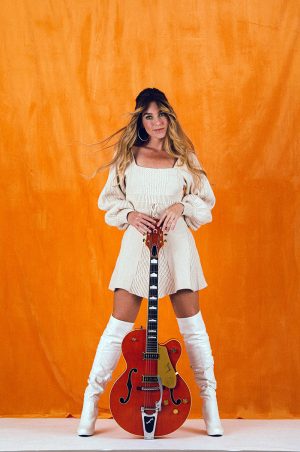 Bonding over sounds of a similar time period, the two travel the open road in a 1995 Dodge camper van, affectionately known as THEKRNL.
"(Willis) brings such an edge to my sound — it's actually quite a bit of a tense thing," Bitter explains. "It creates a cool West Coast cosmic side country."
"It's always old school sounding," she adds. "But, it doesn't sound like we're a one trick pony."
By exploring her sound and traveling to venues around the country, Bitter says she hopes to find her place in the American alt-country scene.
"They all do a throwback thing in modern times," Bitter says. "They're big enough to tour nationally and internationally."
In search of her niche, Bitter visited Nashville, Tenn., where she says she was able to test out her sound.
"The singer-songwriters out there are so good, but my songs are just so much more traditional," she says. "Alt-country seems to be really thriving in the west."
On her recent return trip home, Bitter performed as part of the Songbirds of Ramona Ranch series, at The Casbah, Orfila Vineyards & Winery and Belching Beaver Brewery — to name just a few venues.
Northern Pine Brewing in Oceanside has also created a special beer, The KRNL Bitter Blonde, in honor of Bitter and Farnsworth's van. It's on tap after its Aug. 20 debut, which was commemorated by a musical performance and the opportunity to shotgun cans off the bullhorns equipped to the front of the van.
Bitter will soon be releasing an EP, produced by Mark Neill, and will be working on a new song in partnership with her co-writer on "My Grass is Blue."
To learn more about Bitter, hear her music and learn about upcoming performances, visit kimmibitter.com.
"It feels like (my career) is growing, and I'm really excited for new songs," she says. "I'm more honed in on my sound, and what my branding and image is."
---
Charlene Pulsonetti is a North Coast Current freelance writer.