Cool on the Coast: It's a busy March with State of the City, alternative rock, vintage VWs and healthy living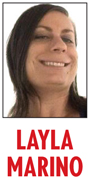 March continues to heat up on the coast as we get ready to say farewell to winter. The weather may be up and down, but the North Coast always has lots of fun in store, no matter what Mother Nature brings. The season's first surf competition, a huge gem faire and, as always, lots of music and family events are just waiting to be discovered. As the weather heats up, we're still Cool on the Coast.
Belly Up, Solana Beach: Lots of cover bands, jazz legends and indie rockers rule at the Belly Up in March. One of San Diego's premiere rock venues, you can't go wrong with the great atmosphere the Belly Up brings. We've got the highlights, but you can see a list of all the great bands to grace the legendary stage by going to http://bellyup.com/calendar#2015-03.
March 18: Juliana Hatfield Three — Juliana Hatfield is a legend of '90s alternative and indie music. Her pixie-dust looks and growling guitar were the ultimate feminine contrast that defined the '90s, and she is acclaimed for two stellar albums in that period. The Juliana Hatfield Three just started touring again after almost 20 years, and they will be playing their smash hit album "Become What You Are" at this landmark show. If you call yourself an indie fan, you won't dare miss it.
March 20-21: Railroad Earth — Railroad Earth is one of the hottest blues rock/Americana groups of 2014-15, with their 2014 album "Last of the Outlaws" winning numerous critical accolades and popular fame. They are currently on a huge three-month tour, and the Belly Up is the only venue where they are playing two shows. If you love junkyard country, there's no other place you should be.
March 27: Elephant Revival — The next big thing in indie folk, Elephant Revival are touring in support of their new album, "These Changing Skies." A bit like Fleet Foxes but with fewer guitars, these Colorado artists combine old mountain folk with pitch-perfect vocals to create something very special in a music scene dominated with folk rock. Check them out in this special performance at the Belly Up.
Miscellaneous fun: When it comes to fun, the North Coast has it all. From arts to food to family-friendly, March brings something for everyone's taste on the coast. Whether you're looking to expand your cultural palate, check out some world-class sports or look for that next special antique, let your mind and body be inspired by all the fun on the coolest coast in California.
Wednesdays, March 18 and 25: Carlsbad Film Series Presents — Free films at Carlsbad City Library's Schulman Auditorium every Wednesday, this month featuring Academy Award-Nominated films. More information: http://www.carlsbadca.gov/services/depts/library/events/default.asp.

March 17: "Whiplash" — Another Academy Award nominee, this film pits potential against passion as a music instructor at a very competitive music school tries to coax greatness out of a promising young drummer. Rated R, 6 p.m.
March 25: "Birdman" — This Oscar favorite features Michael Keaton as a former movie action hero with a serious identity crisis. Blending comedy and drama, this film won this year's Oscar for best picture. Rated R, 6 p.m.

March 20 and 22: Junk Bonanza Vintage Market — The Del Mar Fairgrounds will host one of the most interesting markets of the year. More than just an antique market, the Junk Bonanza has something vintage for every taste. These vendors live the credo "one man's trash is another man's treasure." The show will have a surf theme with vintage boards and a restored VW bus. Admission: $30. More information: http://junkbonanza.com/.
March 21-22: San Diego Healthy Living Festival — Also at the Del Mar Fairgrounds, this fair will be host to all things healthy, debuting the best fitness techniques, new nutritional science and lots of healthy foods and philosophies. Workshops abound; the event is free. More information: http://www.healthylivingfestival.com/.
March 22: 22nd Annual Vintage Volkswagen Car Display — Bob Baker Volkswagen, in conjunction with Volker Radar V-Dub Klub, brings a dazzling display of award-winning vintage Volkswagens to the Bob Baker lot each year. If you've got a car buff in the family, this free car show is the perfect place for Sunday fun. Have a VW you'd like to show? Only $10 to enter. More information: http://www.thesamba.com/vw/shows/.
March 24: Encinitas State of the Union Address — The Encinitas Chamber of Commerce and the city of Encinitas will host Mayor Kristin Gaspar and a representative from the Coast Highway 101 Corridor as they discuss issues with and improvements made to Encinitas and its neighbors. Join this important discussion at the Encinitas Community and Senior Center. More information: http://www.ci.encinitas.ca.us/index.aspx?page=143.
March 29: Bach's Birthday Piano Concert — Are you a closet Bach lover and get giddy every time you hear the name? Come to Carlsbad Library's Dove Library Auditorium to celebrate the 330th birthday of the composer who ushered in the classical music era. 2 p.m. at the Carlsbad Dove Library.
Whether you're interested in where the North Coast is going, what's happening in music and art, or how to get healthier, this region has you covered with a diversity of events and points of interest comparable to any other area in San Diego County. With world class music and art, lots of festivals and surf-centric sports event, March is mega on the North Coast.
Columnist Layla Marino is a San Diego music and arts writer. Visit dropweirdsci.blogspot.com. Follow her on Twitter at twitter.com/dropweirdsci. Send questions and comments to [email protected].