Brew Review: Carlsbad's Arcana marks anniversary with seasonal offerings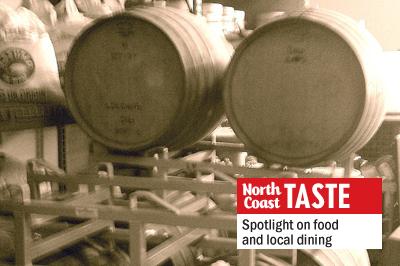 October was a huge beer month in San Diego County. The Hop Highway, a proliferation of breweries running from Escondido all the way to the coast, is gaining fame not only for its IPAs, but for craft beers in general. Indeed, with October being a traditionally beer-friendly month due to Oktoberfest, as well, many breweries along the Hop Highway introduced fall-inspired beers, ales and lagers to celebrate the harvest season.
With so many breweries along the Hop Highway, it can sometimes be difficult for beer lovers to decide where to taste, and which breweries are the next up-and-comers, joining the likes of Stone Brewing, Lost Abbey and Ballast Point.
Many may also not know that coastal North County has many breweries that may be off the beaten path of the Hop Highway and who, shockingly for San Diego County, may not be known for their IPAs.
Many breweries had cask-tapping and other Oktoberfest-style events last month, and one event that piqued interest was Carlsbad's Arcana Brewery, which was having an even not only to introduce its seasonal offerings, but to celebrate its two-year anniversary.
Arcana Brewery, like many of the smaller outfits, is located in a business park in the eastern part of Carlsbad, just below the end of the Hop Highway (officially called Route 78 freeway by the state). The brewing is essentially a one-man show — the ideas for each beer and the lion's share of the work is done by owner, Daniel Guy.
Guy says he's been home-brewing since he was legal to drink. He said that after "seeing breweries open up whose beer was comparable to my home brew, and wanting to jump in before the craze got too crazy, I decided to move on an official brewery. 3.5bbl (108.5 gallon) batches barely count as production brewing, but hey, we'll get there eventually."
He also wanted to set Arcana apart in its style of brewing and the way he approached the ubiquitous San Diego IPA.
"San Diego is the undisputed IPA mecca of American craft beer," Guy said. "Knowing that and not having a backlog of hop contracts to draw on for a lineup of IPAs, I decided to focus instead on more malt-forward and English-styled beers, along with a few fruit-driven ales that many people in San Diego just don't see very often, like Bella's Berry Ale and Newton's Graff Apple Ale. San Diegans tend to be adventurous drinkers, so if you can present them with a tasty lineup, even with only one IPA, odds are they'll still have an enjoyable time."
It seems Dan Guy's gamble has paid off, as the brewery is celebrating its second year in business, and the reviews are good for their size, with an overall 3.5 of 5 possible stars from beer reviewer untappd.com. That gave us good enough reason to check out the brewery's event on Oct. 25.
Guy and his staff were gracious enough to let us sample a flight of the seasonal offerings, including the two beers debuting that day: the Bourbon Barrel Aged Barleywine and the Something Pumpkin Ale.
There were two sittings for the anniversary event, one in the afternoon from 2 to 5 p.m. and one evening sitting from 6 to 9. The entrance fee granted attendees a commemorative pint glass, tasting of the beers and food catered by Mish Mash catering.
We came in at the tail of the afternoon sitting and were immediately charmed by the atmosphere. Though business park breweries and their tap rooms can seem a little cold and sterile, Guy and his staff had taken great pains to decorate the tap room in a unique way. The walls were a warm gray sage color and the decor was sort of African Safari meets Steam Punk. There was lots of bar space, with a warm, wooden primary bar and bar-height leaner benches along all the walls.
The brewery was fairly crowded despite it being the end of the sitting, and bar/retail Manager Dawn Muehl explained to us that many of the patrons were regulars, or "Mug Members," and gestured to the huge wall of mugs behind the bar.
Mug Members are sort of like wine club members, where an annual fee is paid in order to be kept in the know as new beers are released, gain discounts and, of course, have a personalized mug made by local artisan Jesse Martin Mugs. Mug Members can choose to take their mug home and bring it in when tasting or drinking at the brewery, or display it on the wall in the bar. Each year, every member receives a new mug and new perks as the brewery grows. Judging by the number of mugs on the wall, the local beer connoisseurs approve of Arcana Brewing Company.
We had the flight of seasonal beers: the Bourbon Barrel Aged Barleywine, a malty, slightly sweet offering with an obvious hint of bourbon; the Xtra Hopped Headbasher Wheat IPA, which was on the mild side when it comes to IPAs; the Habanero Headbasher IPA, which seemed a little more classic — the habanero was not too overpowering and, despite its name, it was a very drinkable beer; the Maple Coffee Annabelle's Umber, a not-too-stout porter which tasted like maple-coated espresso beans; the Something Pumpkin Ale, which was like a pumpkin pie and so accurately represented pumpkin pie that it could be enjoyed as dessert at the end of Thanksgiving dinner.
Muehl told us that the seasonal brews are limited edition, of course, and that each keg would be a little different. Guy agreed.
"Every barrel is different, each former barrel resident (bourbon, rum, wine, tequila, etc.) will have its own impact, each species of oak and toasting level express differently," Guy said. "No matter how controlled and planned your process may be, half the fun is experiencing how much nature will change your beer once you let her loose in a barrel."
It's clear of Guy's passion for beer and love of the process both in speaking to him and in his product. All the beers were truly interesting and different, and though he didn't want to divulge his recipes, Guy emphasized how important it was to use fresh fruits and herbs in the process, and not any kind of extract or artificial flavoring. "It may be cloudy, but you keep the real fruit character and avoid the risk of microbial contamination," he explained.
In addition to the seasonal flight, manager Dawn Muehl made sure we tried two more of Arcana's signature brews: the San Diego Sage Saison and the Chardonnay Barrel Aged Newton's Graff Apple Ale, with which she mixed some of the Something Pumpkin. If you've never tried combining beers to compliment their flavors, give it a try. The apple and pumpkin together balanced each other and made a really refreshing "beer cocktail."
Muehl said that the Sage Saison and the Apple Ale were rotating favorites — not seasonal but not available all the time. The brewery tries to have some kind of saison available each month, and the sage just seemed to make sense for fall. Indeed, it would go well with any fall comfort food such as a potato leek soup or, of course, a turkey dinner.
The two-year anniversary at Arcana Brewing Company seemed to be a success, judging from the afternoon sitting. The brewery has regular events with musical acts such as Bill Benzel and Blown Fuse. Local acts only, of course. Arcana also likes to feature local food trucks and caterers, and is currently looking for catering companies for pairing. Guy and the gang were at the San Diego Brewer's Guild Fest on Nov. 8 as part of San Diego Beer Week.
By setting Arcana apart from San Diego's hoppy reputation, Dan Guy and his staff are doing something new and exciting on the North Coast within a beer movement that is already exciting and fun.
As San Diegans become known as beer experts in the same way Napa residents are known as wine experts, Arcana offers a challenge to our palettes with robust and varying flavors of malt, bourbon and just differently brewed offerings.
Arcana's tap room is open Thursday-Sunday with varying hours. Be sure to check out its website, www.arcanabrewing.com, for the full draft list, events, news and how to become a member of the Mug Club.
Reviewer Layla Marino is a San Diego music and arts writer, and beer aficionado. Visit dropweirdsci.blogspot.com. Follow her on Twitter at twitter.com/dropweirdsci. Send questions and comments to [email protected].