Carlsbad Haggen market is first to open in California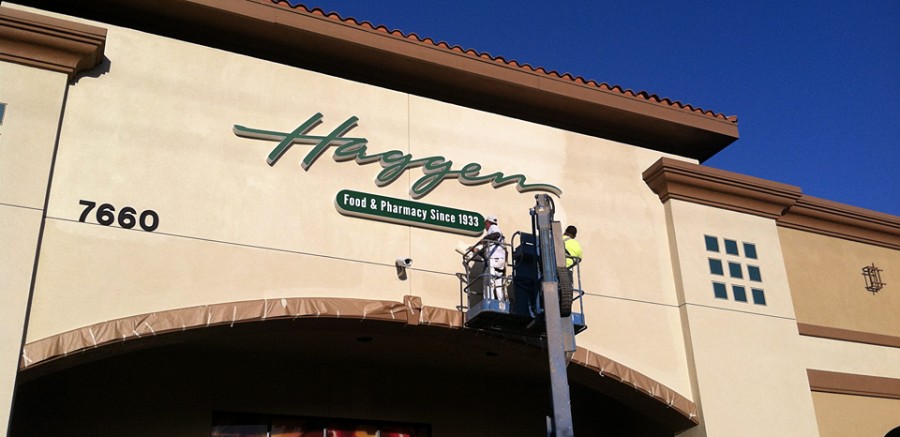 North Coast Current
March 10, 2015
Northwest grocery chain Haggen is preparing to open its first California store in Carlsbad on March 11 after taking over a now-former Albertsons location.
The La Costa store was handed to Haggen on March 9 as part of a government-approved swap of locations with Albertsons and Safeway, which are merging. In Southern California, Safeway stores are under the Vons banner.
Workers applied finishing touches to new Haggen signs late afternoon March 9 as store officials met outside and customers entered to use the pharmacy and Chase bank location, the only portions of the store that were open as interior updates were underway.
Haggen focuses on locally sources products in addition to well-known brands, according to a company announcement. The Carlsbad store is the first of 83 in California it plans to acquire and convert during the first half of this year.
The increase in stores is a significant step in growth for the company, which was founded in 1933 in Bellingham, Wash.
Once the acquisition is complete, Haggen will expand from 18 stores with 16 pharmacies to 164 stores with 106 pharmacies in Washington, Oregon, California, Nevada and Arizona, the company said in its news release. Its number of employees will grow from 2,000 to more than 10,000 as most of the locations' Albertsons and Vons/Safeway workers join Haggen.
"We're excited about the changes we're making to enhance these stores with more locally sourced food offerings, genuine service and homemade quality, and we're confident customers will like the new look, convenience and value offered at our new Haggen one-stop, full-service grocery destinations," Haggen Pacific Southwest CEO Bill Shaner said in the announcement.
California store conversions will continue through May, according to the company. The 26 Washington conversions began in mid-February. Conversions of 20 Oregon stores will be underway this month. Seven Nevada and 10 Arizona stores will be the last to convert in late spring.
The La Costa store is located at 7660 El Camino Real in Carlsbad.
Other North County stores scheduled for conversion in the next several weeks include a San Marcos Vons and Del Mar Albertsons.