La Costa Canyon football hoping team chemistry pays dividends
Every day is a busy day at La Costa Canyon High. Tennis matches, band practice and cheerleading practice are just a few things one sees on the 88-acre campus in south Carlsbad.
Walk past the tennis courts and down to the right, and one finds themselves in the football stadium, where 2,000 home fans showing up for an LCC football game on Friday nights is routine.
This year, the Mavericks are 6-3 after starting 5-1. The Avocado West League, though, has been a problem. Losses at Carlsbad and Oceanside have derailed what was shaping up to be a good chance at league title.
Yet, LCC has a chance to do something special. It's been almost seven years since the Mavericks won the CIF Division I title. Since then, they've been regular visitors to the playoffs but have yet to advance farther than the semifinals in coach Sean Sovacool's tenure.
The key is keeping the roster intact. Along with injuries, Sovacool had to kick several players off the team last year, which affected the cohesiveness.
"If you can keep the same guys from wire to wire, you've been blessed," he said. "It's football, it's almost impossible, but when you do, it helps a ton."
La Costa Canyon lost two critical players before the season started to ACL tears. During last Oct. 30's 22-7 loss at Oceanside, quarterback Tanner Clark was sacked and hit time and again. By the fourth quarter, he was hardly able to pick himself up off the turf.
Sovacool says they're still healthier than they have been the past few years. One reason is the new CIF rule in effect this fall that limits the amount of hours a team can practice at full-contact to three.
"I think we've done a better job of in-season training, staying in the weight room," he said. "You get lucky keeping guys healthy."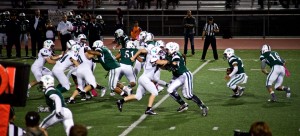 One quirk about the Mavericks is they're extremely well-guarded, almost to the point of paranoia. A person watching their football practice on a random Tuesday afternoon will get approached by multiple players asking who that person is and why they're there.
In Sovacool's six years at the helm, he's known of two instances in which he has caught someone filming his practice from behind the trees just above the west end zone at LCC.
He uses Hudl.com instead of MaxPreps to post and keep track of stats. The difference is anyone can go on MaxPreps and see a team's stats, but on Hudl, a team's information is completely private.
On offense, the Mavericks aren't a hurry-up team like Grossmont might be, but they run a lot of plays from signals given from the sideline.
They use three people to relay the signals, another mark of the relative paranoia. The catch is only one person is using the correct signs.
As LCC attempts to get past the division semi-finals this year, its defense and team chemistry might also be critical. Numbers never tell the story, yet the amount of tackles for loss the Mavericks defense has certainly says one thing: they're in the backfield all the time.
Even in the loss against Oceanside, senior linebacker Cade Jackson had two sacks and three tackles-for-loss and disrupted several other run and pass plays. That, along with two other team tackles-for-loss, gives the Mavericks an astounding mark of 50 in nine games this season.
Possibly standing in LCC's way, besides other high-quality opposition like Oceanside and Carlsbad, might just be themselves.
"The other team doesn't really get in our way, it's just ourselves not executing," wide receiver Connor Raffety said.
Raffety, whose name is repeatedly mispronounced as "Rafferty" by coaches and public-address announcers, said there was a lot of "pointing fingers" on the team last year.
As a result, miscommunication, penalties and turnovers ran rampant. This year, they're not as commonplace, but they're still a huge factor.
Against Oceanside, LCC was flagged for two roughing-the-punter penalties when the Mavericks would've otherwise gotten the ball back after stopping Oceanside. One of those roughing-the-punter penalties resulted in a Pirates touchdown, which was even more crucial given the fact they only won by 15.
But where the penalties, turnovers and other miscommunications might hack away at the team's productivity, the team is a lot closer this year. Not necessarily in age, but in bonding.
"This year, our seniors and juniors are really close together and we have a lot of team chemistry now," Raffety said.
Over the summer, LCC got a new freshman football head coach, Andre Bosier, a 20-year military veteran with a ton of leadership experience.
And he put it to work, putting all the players, not just the freshmen, through physical team-bonding drills where the team had to work together to get through them, just like a game.
"If you didn't work as a team, you failed, and I think that helped us a lot," Raffety said.
With playoffs looming, safety Connor Brown says the team knows what they have to do.
"The biggest thing is trusting each other and doing your job," Brown said.
Patrick Carr is a San Diego freelance writer