CARLSBAD: Local authors share stories Sept. 26, 28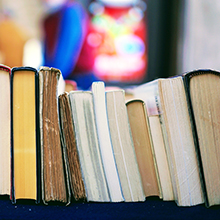 CARLSBAD — The city of Carlsbad hosts free Author Talk events Sept. 26 and 28 at the Carlsbad Library, 1775 Dove Lane. On Thursday, Sept. 26, 6:30-7:30 p.m., Drs. Steffanie Strathdee and Thomas Patterson will discuss and sign their new book, "The Perfect Predator: A Scientist's Race to Save Her Husband from a Deadly Superbug." The story is about one woman's effort to save her husband's life. Strathdee is an infectious disease epidemiologist and associate dean of Global Health Sciences and Harold Simon Chair at the UCSD School of Medicine. Patterson is an evolutionary sociobiologist, experimental psychologist and professor of Psychiatry at UCSD. On Saturday, Sept. 28, 2-3 p.m., "Topgun" Navy Fighter School founder Dan Pedersen will discuss the the publishing of "Topgun: An American Story," sharing the inside story of how he and eight other risk-takers revolutionized aerial combat and formed the "Topgun" program at Naval Air Station Miramar in 1969. More information online: www.carlsbadca.gov/cals/.
The North Coast Current welcomes your community news. Submit upcoming event announcements to [email protected]. Submit stories and photos to [email protected].
encinitas current, cardiff current