Carlsbad City Council member Cori Schumacher resigns
Carlsbad City Councilwoman Cori Schumacher announced her resignation Friday.
In an announcement emailed to supporters, Schumacher said she was leaving the council to pursue university education outside the region. She leaves the council after recent tumult ranging from a recall effort to online harassment she alleged against residents.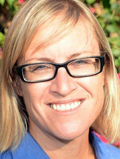 "As some folks know, I have been attending school part-time while also serving in my capacity as city council member," she wrote July 9. "Subsequently, I applied to several universities and after reviewing my options with my family, I have chosen to attend a university outside the county of San Diego. It's an opportunity I simply cannot refuse. Unfortunately, this means that I am no longer able to continue in my role as your council member."
Schumacher had been on the City Council since 2016 and ran for mayor in 2018.
In recent months, Schumacher faced a recall effort pushed by former San Diego City Councilman Carl DeMaio, partly the result of Schumacher's January proposal to tighten enforcement of pandemic mask requirements for local businesses. A few months ago, Schumacher was ordered to pay $47,191 in legal fees to two Carlsbad men after a judge dismissed a civil restraining order Schumacher made against them for alleged online harassment.
In her emailed resignation announcement, Schumacher touted the successes of her time in office.
"Together we successfully launched the Clean Energy Alliance, Carlsbad's first city lifeguard program, the most comprehensive homeless response package in the county and organized subregional efforts that have produced significant cooperation among North County cities to tackle homelessness so we're not working in this space alone," she wrote.
encinitas current, cardiff current