North Coast Current

May 14, 2014

Filed under Camp Pendleton, Cardiff by the Sea, Carmel Valley, Del Mar, Education, Elfin Forest, Encinitas, Escondido, Fallbrook, Harmony Grove, High School Sports, Higher Education, K-12, La Costa, LATEST NEWS, Leucadia, Oceanside, Olivenhain, Rancho Santa Fe, Region, San Diego County, San Elijo Hills, San Marcos, Vista
Update 10:40 p.m. May 15: All colleges and school districts listed below have announced closures for Friday, May 16. Several school districts in North County have announced closures in the wake of major brush fires in the region May 14 that have damaged or destroyed several homes. Students at Cal S...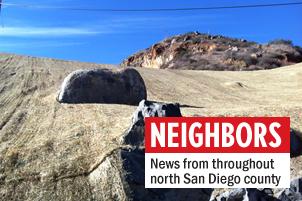 Alex Groves

October 11, 2013

Filed under Elfin Forest, Escondido, Harmony Grove, NEIGHBORS, San Marcos
Residents of the communities of Elfin Forrest and Harmony Grove have long been at odds with potential development in the form of housing, schools and light industry, and that's likely because there aren't many places in North County that resemble the rural area that comprises them both. The to...