Program keeps business close to home
Localvores have taken over Encinitas, and the community couldn't be happier. But what, you may ask, is a localvore? It's a recent creation emerging as town mascot for Encinitas' Buy Local-E program, which encompasses the five districts (Encinitas, New Encinitas, Cardiff, Leucadia, Olivenhain) and tries to keep the city's dollars at home during tough economic times.
"Basically the nuts and bolts of the concept is that there is a disconnection between most residents of Encinitas and the knowledge of when they shop of what happens to that money," said Peder Norby, Highway 101 Corridor coordinator and a key member of the project. "The Buy Local-E program simply tries to inform the residents of Encinitas that where they shop makes a difference in the services that could be provided in their city."
The program was approved on Dec.10, 2008. "We brought the authorization before council and they approved, allocating $10,000 for city support to help with collateral material (printed material, launching the website and any type of future support they need)," explained Richard Phillips, assistant to the city manager.
But costs for the project have remained staggeringly low, as they've already developed their website (www.buylocale.org) internally with existing resources, "so no dollars were spent on that," said Norby. "There is some printing being done, but I would guess that it's going to be significantly less than the $10,000 allocated."
The group's primary focus is educating Encinitas' residents. "As consumers, we all have freedom of choice and shop where we want to shop," Norby commented. "We're just trying to give them one more piece of information to make them understand how important it is to shop in the city where they live."
"I think there's a multiplier effect when you spend a dollar locally," added Phillips. "From the city standpoint, it not only builds community, but a portion on the sales tax dollars is returned back to the community itself. That's what helps fund a lot of municipal services provided in the community."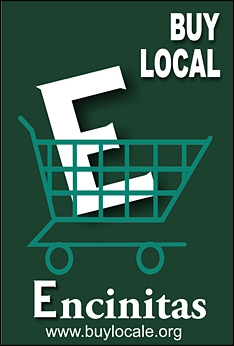 In fact, Encinitas' sales tax is the city's second largest source of income and last year accounted for over $11 million. "If we can have them shop a little more in Encinitas, we can have a direct effect on the sales tax that Encinitas collects," Norby explained.
It also has a direct effect on those employed within the city. "The employment base for Encinitas is primarily people that live in Encinitas," Norby said. "When you support and shop at an Encinitas store as an Encinitas resident, you are also perpetually supporting your neighbor's kid or wife or husband that is working at that store."
Beyond the educational and employment components, there is also the environmental aspect. "It's a much better utilization of resources and far more environmentally friendly to shop locally," Phillips said. "It's the green thing to do."
As an incentive for residents to keep their dollars in the community, local merchants and businesses are working with the program and offering discounts on their goods. Wehtahnah Tucker of Eco-expressions is an Encinitas business owner already active in the project. "Not only as a business owner is it important for me to help build relationships with the customers who are closest geographically, but also it's important to myself as the consumer. I think it's important that the businesses remember that they're not just the ones benefiting, but it's also important that they participate in this on the giving end."
Tucker ensures her business to local printers for her ecologically intelligent greeting cards and wall art, explaining, "It's not just about doing business, it's about building community. Encinitas is supportive of small its businesses anyway. I think that in these economic times we just need more of a reminder."
Encinitas will be informing residents and businesses about the program through their regularly issued recreation guide (article in the newsletter insert). The Chamber of Commerce has also played a large part in involving the business community.
Merchants and business owners can apply directly on the website (www.buylocale.org) and residents will be issued a customer loyalty card for participating stores. The website also provides a clear and fun focus on the project.
"It's set up to be imaginative and innovative, as opposed to bureaucratic," Norby said. "Hopefully the community will have some, 'who-can-sign-up-more-stores-from-each-community,' some lighthearted competition and uniqueness that reflect our five communities." Residents and local businesses are invited to post pictures of their Encinitas shopping and become official "localvores" themselves, as an incentive for people to interact with the website.
"These are our people, this is our community. There's not a whole lot we can do about property taxes and the devaluation of real estate market, but as individuals, as consumers, we can control our shopping behavior," Norby concluded. "We are a tight community and when times are tough we help each other. When you shop locally, you literally are helping each other."
Lauren Ciallella is a San Diego-based freelance writer