Local arts may weather economic storm
Maybe the swami was right.
"Many will tell you about the original swami who came to town and noticed that there was a creative vortex here in Encinitas," said City of Encinitas Arts Administrator Jim Gilliam. "That happened in the '20s, and yet it's interesting because Encinitas is truly a haven for creative people."
Encinitas is still known for its abundance of local artists, but that creative insight permeated the surrounding communities and somehow has kept North County's arts and culture afloat in a faltering economy.
"The interesting thing is that art organizations always operate on a shoestring, so they're already at minimal funding," Gilliam said. "They rely heavily on community participation and volunteers, and those factors haven't changed."
The San Dieguito Art Guild, which runs the Off Track Gallery in Encinitas, is a nonprofit group made up of 160 members, all of whom are volunteers.
"Well, we are kind of defying the economic thing that's going on," said Grace Swanson, a guild board member who handles PR and promotion. "We're gaining membership every month and our sales have not dropped off. So we're looking at each other going, 'What in the world is happening here?'"
Support has also arrived in the Cedros Design District, known for its larger-than-life imagery and vibrant colors.
"We have an absolutely fantastic 2009 marketing campaign … There is a streetwide party kick-off (March 19, 5-8 p.m.) and it continues through that weekend," said Sean MacLeod, who heads the Executive Committee of the South Cedros Property Owners Association. The event will feature everything from floral art displays to a "guerrilla art installation" that is being curated by the cutting-edge artists in the 444 Building.
MacLeod added, "We have had many of these tenants for many years, so we're able to work them through the difficult times and help them where we can to keep their doors open."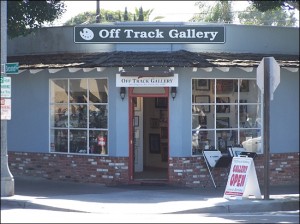 The City of Carlsbad Arts Office is also working hard at keeping its core programs as strong as ever.
"We act as a catalyst and supporter for arts and culture … We work really hard to make sure that the citizens have options for enjoying arts right here in our community," noted Colleen Finnegan, Community Arts coordinator. Most of Carlsbad's arts programs are free to the public, including its most popular event, a summer concert series known as TGIF Jazz in the Park.
Another long-standing favorite is Arts Alive, which features 101 local artists whose work appears on banners that hang from lampposts in Encinitas, Leucadia and Cardiff Town Center. The banners are currently on display along Highway 101 and will be auctioned off May 31.
"People have a chance to pick up a piece of art for a fraction of what it's worth," said Danny Salzhandler, a local artist and member of 101 Artists' Colony. "Even though the artists know they aren't making a ton of money, they like doing it because they're sort of involved in something bigger than themselves … I like the idea of the city supporting the arts, but it really has to be the artists that make it happen."
"Artists are great problem solvers," agreed Community Services Coordinator and Public Arts Liaison for the city of Solana Beach, Anita Edman. "They're creative and they think out of the box and they can really come up with some inventive new ways to make money, to create atmosphere … it's really important, even more so now than ever."
Edman discussed the upcoming "temporary arts project," headed by the Solana Beach Arts Advisory Commission, which will exhibit at five different sites. "The goal is just to get public art in the community without having to buy it, and it also helps artists because they get some publicity and some exposure."
As much as the artists rely on the community for exposure, the community relies on the artists for revenue.
"There is a direct correlation between economic benefits and the arts," Gilliam said. "The arts drive tourism and tourism drives the downtown, so it's a win-win for everybody."
Lauren Ciallella and Scott Landheer are San Diego-based freelance writers