If anyone doubts the growing clout of the annual Encinitas Street Fair, organizers can now do a little name-dropping to back them up. Now in its 26th year, the Encinitas Street Fair boasts two major sponsors well suited for sponsoring an event that takes place at the height of spring — and Johnsonville Brats and Stone Brewing Company.
The fair runs April 25-26, 9 a.m.-5 p.m., along Coast Highway 101 between D and J streets in downtown Encinitas. The Downtown Encinitas MainStreet Association, the group behind the event, is also touting the green- and children-friendly aspects of this year's fair, according to a news release from Tess Radmill of DEMA.
The event has slated 450 food, arts and crafts vendors, along with the World Famous Johnsonville Brats' Big Taste Grill, four live music stages, children's ride, Kid's Zone by Magical Child, and the Stone Brewing Company Beer Garden featuring four of their award-winning ales. The fair draws more than 100,000 shoppers, who this year will be able to browse vendors offering clothes, accessories, plants, household products, environmental products, art, antiques and home décor, according to Radmill. Extra activities for children are offered as part of DEMA's Free and Affordable Family Fun Program.
Johnsonville Brats, this year's title sponsor, is bringing its Big Taste Grill to Downtown Encinitas. The grill is 65 feet tall, 54,000 pounds and holds claim as the world's largest grill. It can cook 750 bratwurst at a time, or 2,500 brats an hour. A dollar of every brat purchased at the fair will go to the DEMA Scholarship Fund, which will create a scholarship for one San Dieguito Academy High School student and one La Costa Canyon High School student.
This year's beer garden is sponsored by Escondido-based Stone Brewing Company, which has been ranked as the "All Time Top Brewery on Planet Earth" by BeerAdvocate Magazine. Stone Brewing will offer its top selling and most popular beers, including Stone Pale Ale, Arrogant Bastard Ale, Stone Levitation Ale, and Stone India Pale Ale. Stone Brewing will also bring its delivery truck powered by bio-diesel and representatives from the company to educate beer drinkers on what's in their cup as well as the Stone Brewing Company philosophy, according to Radmill.
In addition, tip money on Saturday will go to Water for People (www.waterforpeople.org) and on Sunday to the Crohn's and Colitis Foundation of America (www.ccfa.org). Volunteers from each organization will serve beer in order to earn the tip money, with the earnings going to their respective charities.
Green friendly
DEMA, with the help of Stone, will encourage beer garden patrons to reuse their cups for their second glass of beer as part of the fair's reduce-reuse-recycle initiative. Those who reuse their cup will receive a raffle ticket for each time they reuse. In 2008, beer garden customers cut their cup usage by one third, according to Radmill. The goal this year is to reduce waste in the beer garden by an additional third.
Look for the blue ClearStream recycling bins at the street fair, as well. The city of Encinitas is lending DEMA 100 ClearStream recycling bins to capture glass, aluminum and plastic at the fair. The bins were purchased through a joint grant between the city of Encinitas and DEMA from the Department of Conservation. By using ClearStream bins, organizers said they hope to divert waste from the landfill into recycling centers. Signs will be posted encouraging people to drop their recyclables in the blue bins.
Family friendly
This year, the street fair will have a new Kid's Zone organized by Magical Child (www.magicalchild.com), in conjunction with the local nonprofit Boobs on the Move (www.boobsonthemove.org), which raises funds for breast cancer research. The Kid's Zone will be located in the Lumberyard parking lot between H and I streets. All day, Magical Child will hand out 10 percent-off coupons for its store, as well. The Kid's Zone will include an H2O station, cupcake decorating, biodegradable balloons, coloring, eco house building, hula hooping, jump rope and face painting.
The Encinitas Fire Department's Annual Pancake Breakfast is slated for April 25. The Fire Department will set up in the 7-11 parking lot located at D Street and Coast Highway 101 and will cook pancakes from 7 a.m. to 11 a.m.
Transit and parking
DEMA has a few suggestions on how to get to the fair. For Saturday, organizers suggest avoiding parking hassles altogether by taking the North County Transit District's Coaster rail line. The Coaster station, located at D Street and Vulcan, is steps away from the fair. The Coaster schedule is available at www.gonctd.com/coaster_schedules.htm.
Limited parking is available in the morning hours on Saturday and Sunday. Suggested parking spots are at City Hall, located on Vulcan Avenue; the Moonlight Beach Parking lot, located on Third Street; and the two Coaster Station parking lots – Vulcan and S Street, and Vulcan and E Street.
For more information, call DEMA at (760) 943-1950, or visit www.encinitas101.com.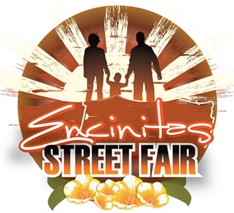 MORE COVERAGE:
Diversity marks Street Fair music scene
This year's fair brings with it a tight cross section of local music — from ambient-based indie rock to bluegrass and world music.
CHECK OUT THE SPONSORS:
Stone Brewing Company
Johnsonville Brats