Surfing Madonna returns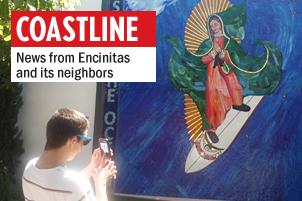 After spending a year refurbishing and searching for a new home for his Surfing Madonna, artist Mark Patterson quietly installed the mosaic on June 25 in Leucadia between Café Ipe and Surfy Surfy.
"I feel like I've been running a marathon," Patterson told the North Coast Current. "It's been a long year; I am so grateful, glad and emotionally thrilled to have the mosaic back up.
"It's a big weight off my shoulders. It was like having a child locked away; it made my heart hurt," he added.
Contrary to the first time around, the Surfing Madonna's new home is on private property.
The 10-foot-square art piece of stained glass and stone depicts Our Lady of Guadalupe on a surfboard with the words "Save the Ocean" down the side.
It first appeared in April 2011 under the railroad bridge at Highway 101 and Vulcan Avenue. It immediately stirred controversy.
City officials labeled the work graffiti because its installation did not go through the mandatory public-review process, and they right away began the process of having it removed.
Most residents took it for its message, which is not a religious one, Patterson has said.
The mosaic was taken down June 22, 2011. Patterson paid a $500 fine and an additional amount for the costs of its removal and any damage caused.
But the wait is now over, and Leucadians say they cannot be happier.
"I think it's super rad that (the Surfing Madonna) is back up. It's nice that its artist was willing to rebuild it so we can see it again," Raymond Orate said as he took a picture of the art piece on June 26.
Another resident, Brittany Corrales, also said she is "really excited" to see the mosaic be displayed in a permanent spot.
"It seems that it took a long time to find a new home," she said. "To see it again means a lot to me and the rest of the community."
Summer Nelson, Surfy Surfy manager, said the property owner, Keith Harrison, and the shops are happy to host the art piece.
She added that "it's been a circus" with all the media and visitors stopping by since the mosaic was assembled, but more than anything she is thankful that it's now in a place where people can safely view it.
"It was a little dangerous for people to stand out on Encinitas Boulevard to try to take pictures," Nelson said about the Surfing Madonna's original location.
Patterson felt the same about the mosaic while it was under the train bridge last year; he mentioned that public access was a huge consideration when choosing a new site.
Jim Gilliam, arts administrator for the city of Encinitas, who helped Patterson through the process of applying for a permit earlier this year to place the Surfing Madonna at Moonlight Beach, which was denied, said he is "pleased to see the mosaic find a permanent home."
"Its new location is terrific. It gives Leucadia an iconic artwork, much like the surf statue does for Cardiff-by-the-Sea," Gilliam said.
The state attorney general's office said in March that placing the mosaic on public land would violate the state's "no preference" clause in the California Constitution.
Café Ipe's manager, Dave Thomas, is inviting the community to stop by and experience the mosaic.
"Come check it out, hang out in the patio and take pictures," Thomas said.
With more peace of mind now, Patterson said he is planning a trip to Guatemala in July to get some R-and-R.
"I am going to visit friends, sponge off of them and kinda chillax," he said. "When I return, we'll see what's next."
The coffeehouse, surf shop and Santos Fine Art Galleries are located in the 900 block of North Coast Highway 101 in Leucadia.
Ernesto Lopez is a San Diego freelance writer