Bond key issue in trustees' race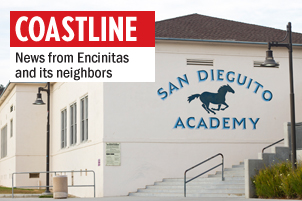 When the voters in the San Dieguito Union High School District go to the polls in November, they'll be deciding the future of the community.
Sharing the ballot this year: four candidates running for two seats on the school board and a $449 million school-construction loan.
Proposition AA would be the first general obligation bond in 40 years, money district officials say is necessary to make repairs, update technology infrastructure, and meet the demands of student growth.
At a time when other districts have issued pink slips and furlough days, and reduced the number of instruction hours, district officials said they have been able to avoid layoffs and lost classroom time. By cutting back in small steps over a period of many years, not tapping into district reserves to pay for retirement incentives, districts officials said they were able to remain fiscally conservative, ahead of other school districts.
The district is proud of that work, said Rick Schmitt, associate superintendent of education services for the district.
Approaching curriculum standards from different angles the district also broadened the schedule with some creative solutions. Students in the district are familiar with the four-by-four or block schedule, or open access to honors programs. A student who excels in mathematics or history or biology is able to take an accelerated class while studying grade-level English, for example. Allowing students to have input in their schedule gives them a chance to direct their curriculum — their success — district officials said.
"As long as students are interested in a class we'll find a way to fill it," Schmitt said.
Instruction hours, however, fall under a different budget. Prop. AA asks voters to help the district address issues such as leaky pipes, asbestos, modernizing science labs and making travel paths for students with disabilities, as well as laying down new wiring for technology such as computers and teaching aids, and to build a new middle school to accommodate 2,000 additional students. The measure does not ask voters to OK buying iPads, for example.
In the past, the school district made improvements piecemeal with small grants or matching funds. That strategy changed when state and local sources dried up. The only other option then was to turn to the community for help.
"Our community has always done what we have asked them to do. Donations have increased in the last few years. We have had great results from fundraisers. We have gone out of our way not to ask the community for a general obligation bond, and I think they appreciate that," Schmitt said.
A district poll conducted in April showed that 64 percent of respondents favored the bond, but 18 percent of respondents said taxes are already too high. Meanwhile, 51 percent of respondents want funds to directly benefit the district by contracting local workers.
Voters will also be shaping the school board responsible for taking the first steps if the bond is approved.
The four candidates running for the two seats are evenly split in their opinions of the bond. Incumbents Joyce Dalessandro and Beth Hergesheimer support the bond. Graham Ledger and Steve McDowell oppose it.
Joyce Dalessandro

Dalessandro is currently president of the district board and has served for the past 16 years. She is a past president of the Torrey Pines High School Parent's Association, helped create the first foundation in the school district and served as vice-president of business fundraising for the foundation. She sat on the task force that studied the district's facilities, which later became the facilities master plan. She said she believes that public education is the foundation upon which the country has built its democracy.
"The larger message of education is getting lost in this election," Dalessandro said. "Candidates are being reduced to this one decision, when the district has a history of amazing decisions. Care, study, never saying when there's a windfall let's spend it. We've been fiscally conservative. That's how we've been able to stay ahead. There's so much to our district that's innovative and cutting-edge."
Two high schools in the district went green last year. La Costa Canyon and Canyon Crest Academy now power classrooms and keep them cool with energy drawn from the sun. Other schools are studying this model and learning from the district has done, she said.
"Giving students every opportunity is the most important thing we do as a school. We have more AP classes than any other district. That doesn't just happen. That's governance," Dalessandro said.
Beth Hergesheimer

Hergesheimer is currently on the district board and has served for eight years. She was active in the PTA, during which she served as vice president for legislation and then later as a school site council liaison, and served as chairperson of Christ Presbyterian Preschool advisory committee. She said she believes that all students deserve an excellent education whether they are college bound or entering the workplace.
"I believe it would benefit our students and district to have decades-old temporary buildings replaced with permanent buildings," designed with an intended purpose, she said. "The need is existent now."
In light of negative headlines about the Poway and San Diego school districts, she said those leaders have made some costly mistakes that will impact students the most in the end. She said members of the San Dieguito community have expressed concerns over those districts' troubles and are worried about similar problems.
The Poway Unified School District's 2008 voter-approved measure turned out to be a controversial capital appreciation bond. A 20-year delay in paying down the bond, by design, could increase the bond's total cost nearly 10 times its original $105 million, according to news reports.
Hergesheimer said she could understand how voters might be tempted to compare leadership, "but we have a different history with our community," Hergesheimer said. "We have maintained a cooperative with the community for many years. What we hope the voters see is that this is an investment in the long-term health of the community. The good news is, if Prop. AA passes, those funds will be controlled and spent locally, too."
Graham Ledger

Ledger is a broadcast journalist at the Wealth Television Network, formerly anchored the nightly news at KFMB-TV Channel 8, is a two-time Emmy and Golden Microphone award winner, served on the board at Father Joe's Village and is a member of the 858 Tea Party chapter. He said he was compelled to run for a school board seat because the board is out of fiscal sanity. His daughter attends school in the district.
"The district is operating several million dollars in the red," Ledger said. "That's a primary cause for concern. You and I have a checkbook. We have to do something called balance it."
He said he attended the meeting at which district officials talked about the findings of the poll they took to gauge the community's interest in the bond.
"More than one-third of the people they polled were people who weren't homeowners. If you poll people in Nebraska, they have no skin in the game," Ledger said.
Ledger said he is not in favor of raising taxes during a recession. "We have great kids. Great schools. Great teachers. We have a duty to protect them," he said.
Steve McDowell

McDowell is a financial reporting consultant at General Atomics. He earned a bachelor of science in applied arts and science business administration from San Diego State University and a master of business administration from the University of San Diego, served as nation chief for the YMCA Adventure Guides Program, and served as treasurer and auditor for the PTA and PTSA, and served four years on the Del Mar Union School District Board of Trustees. He said he believes experience is needed to keep quality education first while being responsible with tax dollars. His children attend school in the district.
"I worry about the kids being able to pay for that bond," McDowell said. "I would have liked to see a shorter bond period." He called the measure a little bit of a grab bag. At La Costa Canyon, bond funds wouldn't be directed to build classrooms, but rather technology infrastructure, he said. "See for yourself. It's in the PowerPoint," McDowell said.
He said he has also raised concerns about class schedules with district officials. While students enrolled in advanced placement classes benefit from that rigor, he would like to see students who have difficulty meeting those demands have the option of taking a hybrid class. "Something in between AP and a regular class," he said.
While serving on the Del Mar school board, he said he went back to look into previously awarded bids to double-check that none were given to the highest bidder, were competitive and gave the district as much flexibility as possible, investigating "there was no automatic escalation in there. We got some new data by doing that," McDowell said.
The district has been developing a facilities master plan for the past four years. Back in July, the board voted 4-1 to put the Prop. AA on the ballot. Since then, the district has received criticism from community groups while earning an endorsement by the San Diego Taxpayers Association. The measure would increase the current tax rate by a maximum of $25 per $100,000 of assessed valuation.
"We had no idea where we would end up when we started this project," said Eric Dill, the district's associate superintendent of business services. "We have schools from different times. Some are as young as eight years, another is 75 years old."
Estimated construction costs for Carmel Valley Middle School are $6 million while costs to improve San Dieguito Academy are estimated at $71 million.
"Interest rates are low. Construction costs are low. A construction boom could raise the cost," Dill added.
It'll come down to the voters and what they want on Election Day.
Ken Pagano is a San Diego freelance writer