'Madonna' fans fete permanent home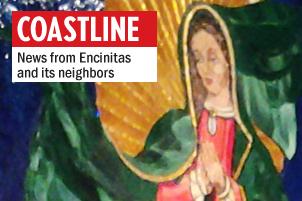 The Surfing Madonna mosaic got a lot of attention on 12/12/12 as nearly 100 locals gathered at Café Ipe on North Coast Highway 101 in Leucadia to celebrate its newly announced permanent home and try some beer inspired by the artwork.
Some local Catholics joined in celebration of the Day of the Virgen de Guadalupe, a day in which the Mexican culture remembers the Virgin Mary's fourth apparition to Juan Diego at the Hill of Tepeyac.
A makeshift altar – with a lit candle and a red mantle – was placed in front of the Madonna.
"The Virgen is the mother of all and I came here today in her honor," area business owner Elsa Carrera said. "It's a very important day for believers, plus I love the Surfing Madonna."
Mosaic creator Mark Patterson said he and his team organized the Surfing Madonna celebration – also a fundraiser – to coincide with the religious event.
Still, he says the 10-foot-square art piece of stained glass and stone is not meant to be a religious figure.
"This event was held in honor of the Dia de la Virgen de Guadalupe; I thought it was appropriate," Patterson said. "She is such a powerful and blessed figure for so many people, as well as a cultural icon."
Teresa Gonzalez Meade, a Spanish-language professor at MiraCosta College who during the event recited an original poem inspired by the Surfing Madonna and her "Save the Ocean" message, said she attended because Father Bryan Corcoran at St. John the Evangelist Catholic Church in Encinitas suggested she and other parishioners attend.
"To me, the Lady of Guadalupe is in the Surfing Madonna. The mosaic is just an artistic rendition," Gonzalez Meade said.
The Surfing Madonna first appeared in April 2011 under the railroad bridge at Highway 101 and Vulcan Avenue. It immediately stirred controversy.
City officials labeled the work graffiti because its installation did not go through the mandatory public review process. It was removed on June 22, 2011.
Surfing Madonna spirits

Molly Brooks-Thornton and George Thornton, who run The Homebrewer in North Park, created the Surfing Madonna Beer, a honey brown ale infused with coffee beans from Café Ipe.
The beer was not for sale at the event since The Homebrewer is an unlicensed brewery. The pair did have small tastings inside the cafe, and several bottles were raffled.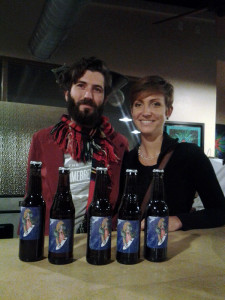 "We can legally give beer away, so this event was a great opportunity for us to give back to the community and get our name out there," Brooks-Thornton said.
Patterson said he hopes to see the Surfing Madonna Beer mass produced and commercially sold.
"We are going to see how people react to it; if they like it, we will push on it," he said.
A handful of attendees seemed to enjoy the beer tastings but were left wanting more. They were ready to take cases home.
"I came here to get some beer, I need some bottles," Mark Murphy of Old Encinitas said. After tasting the beer, he described it as a "smokey porter."
"It's interesting; it has mellowness to it and it doesn't taste so dark," Murphy added.
Andrea van Branken, who attended the event with Murphy, said she also liked the beer.
"I really enjoyed it; it's very smooth and very light," Van Branken said. "It's a great beer, I would but it."
Thornton and Brooks-Thornton said they have submitted the paperwork to become a licensed brewery. The process could take up to a year. In the meantime, they are inviting people interested in trying the Surfing Madonna Beer to visit their home-brew supply store in North Park and buy the recipe.
"Come down to the shop, we can give you the recipe. We could show you how to brew the beer as this would be the quickest turnaround to taste it," Thornton said.
"If you can make cookies and cake, you can brew it yourself," Brooks-Thornton added.
Carruth Cellars of Solana Beach has produced Surfing Madonna Bordeaux wine, and donates $3 of every bottle sold to the Surfing Madonna Oceans Project.
Her permanent home
A year after it was taken down from its original location, the Surfing Madonna reappeared on June 25, 2012. This time, it was mounted up on private property, on the outside wall at Café Ipe.
It was originally made clear that it would be a temporary home.
After months of searching for a permanent home, Patterson said he decided to keep it at the cafe.
"There are very few walls in Encinitas that could support the mosaic and be accessible and safe. I looked all over," Patterson said. "I am very excited that it now has a permanent home."
"She's been pretty happy up there," Patterson added.
Surfing Madonna wine, t-shirts, coffee mugs and other products were on sale at the event. A private dinner with Patterson and bottles of the Surfing Madonna Bordeaux wine were also raffled.
Bob Nichols, a friend of Patterson helping with fundraising efforts, said the Surfing Madonna Oceans Project has about $8,000 in the bank and plans to hold several projects next summer that fall under the "Save the Ocean" message.
According to a Twitter posting on the Surfing Madonna feed on Dec. 13, the celebration and fundraising event raised about $1,000.
For more information on the Surfing Madonna Beer, visit www.thehomebrewersd.com. Information about Carruth Cellars' Surfing Madonna Bordeaux can be found at  www.carruthcellars.com. Visit www.surfingmadonna.org to keep up with news and events from the Surfing Madonna Oceans Project, an organization created to raise awareness of issues affecting the ocean.
Café Ipe is located at 970 North Coast Highway 101 in Encinitas.
Ernesto Lopez is a San Diego freelance writer