Initiative backers pan impact report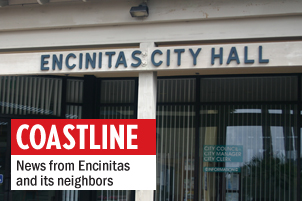 Although the Encinitas City Council has already ordered a special election for the Right to Vote Initiative on June 18, backers are saying the report ordered by the council on the effects of the proposal only portrays it in a "negative light."
At the March 12 City Council meeting, the council heard a summary of the 57-page report from Joel Kuperberg, a partner at Rutan & Tucker, the Costa Mesa law firm hired in mid-February by city planners to conduct the review.
Specifically, the law firm was asked to highlight the initiative's potential fiscal impact and effect on land use.
"The report was mostly postulating, this could happen, this might happen or this would happen," Bruce Ehlers, the spokesman for the initiative's backers, said on March 17. "Nowhere in there do they say it won't work; it's all about speculation."
"The fear that the report was trying to build in the City Council, I think it was largely successful, and I think it's unfounded," Ehlers added.
The initiative would impose a citywide height limit of two stories or 30 feet for all buildings and structures, among other major amendments to zoning. It earned special election status after its supporters managed to collect 8,347 signatures, of which a threshold of 5,668 were verified to meet criteria for such a ballot. The county registrar of voters verified a total of 6,850 signatures.
"We began to see density increases and we want to protect community character; this is really what we are doing," Ehlers said.
In his summary of the report, Kuperberg told the council, among other things, that the voter approval requirement could make it difficult to provide a range of housing types to meet the needs of economic segments of the community, as required by state law.
He also said the report determined that a height limit without specific plan modifications would conflict with housing-element programs that encourage mixed-use development, such as those that would allow greater height and housing for lower-income residents.
"Housing elements that do not comply with state law are objects of litigation," Kuperberg explained to the council.
Councilwoman Kristin Gaspar, seemingly concerned about the potential lawsuits, questioned what would happen when the voters say no.
"Do we live in defiance and deal with the consequences?" she asked.
"I agree voters should have a say in up-zoning, but the initiative falls short in protecting the community and puts the city in unnecessary risks," she later added.
Kuperberg reiterated that failing to implement housing could make Encinitas vulnerable, adding that the city may no longer be eligible for certain state grants and loans.
"This would also make it easier for a plaintiff, a disgruntled (developer) or legal impact organization to sue the city," he said.
During his report, however, Kuperberg noted that in order for a project to be up for a vote of the residents, it must first be approved by the City Council, and if a project is turned down by the council or Planning Commission, it could also face litigation.
"Voter approval only comes into play if and after council has approved a project," he said.
Escondido's experience
In the late 1990s, the city of Escondido passed a similar amendment in which general plan changes are put to a vote, Proposition S. According to Escondido city planners, they have not faced lawsuits; on the contrary, community character has been preserved and people are satisfied.
They have seen, in some cases, voters approve some increase in zoning, while other attempts have failed.
"We have seen no lawsuits in meeting housing element requirements," Escondido City Planner Jay Petrek said via phone interview. "We are working with the proposition for all general plan updates. It has been stable."
Escondido's Proposition S reads: "No General Plan Amendment or new Specific Planning Area shall be adopted which would: 1) increase the residential density permitted by law, 2) change, alter, or increase the General Plan Residential Land Use categories, or 3) change any residential to commercial or industrial designation on any property designated as rural, estate, suburban or urban unless and until such action is approved and adopted by the voters of the City at a special or general election, or approved first by the City Council and then adopted by the voters in such election."
Cost and impressions
Fiscally, Kuperberg said, vote requirements may increase costs to applicants and the city. A consolidated election costs between $35,000 and $40,000, and a special election costs up to $400,000.
Regarding effects on land use, he reported that the initiative may cause delays, resulting in increased costs to applicants since voting happens once or twice a year.
Ehlers said he and other backers of the initiative are not concerned about any potential negative impressions the report might create among residents.
"I encourage all to read through the report and count the number of would, could and might in every conclusion," Ehlers said. "I could write the worst possible scenario with the worst would, could and might, and I could also write the best possible scenario if you inverted everything."
"It is a vote of the people; I trust the people to make the right decision," Ehlers added. "We are taking power of the planners to manipulate the outcome and giving it to the people."
The report can be seen at www.ci.encinitas.ca.us under agendas on the City Council page.
Ernesto Lopez is a San Diego freelance writer