Anti-Prop. A mailer stirs up flier flap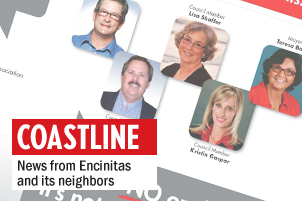 It's a mystery. Finding an individual willing to take credit for the creation of a recent flier in opposition to Proposition A, on the ballot as The Encinitas Right to Vote Amendment, could be likened to pinpointing the sun in June gloom.
A June 18 special election will decide the fate of Prop. A, which would impose a citywide height limit of two stories or 30 feet for all buildings and structures, among other major amendments to zoning.
The flier in question pictures the faces of the current City Council as united against the initiative.
"There are no rules really, official or otherwise, governing the content of such mailers (funding is another matter) so it's really Caveat Emptor," San Diego Mesa College political science Professor Carl Luna said via email.
"Caveat emptor" is Latin for "let the buyer beware."
"The guiding principle for mailers is to get your viewpoint across without being bogged down by accuracy or accountability – hence their desirability," Luna added.
"I don't know what 'No on A' groups do, I have absolutely no affiliation with any of them, nor do I intend to," Mayor Teresa Barth said.
Barth and Deputy Mayor Lisa Shaffer sent out email statements denying involvement with the flier.
In a May 17 email to subscribers, Shaffer said: "As a public figure, my image and words can be used without my permission, and so I was surprised and unhappy when I got the mailer."
Barth told her email subscribers on May 18: "As public officials our photos and public comments we make can be used without our permission or prior knowledge."
The consensus among City Council Members Kristin Gaspar, Tony Kranz and Mark Muir was that they recognize they are public figures and their names, faces and public statements are basically up for grabs.
However, the flier accurately reflected their position against Proposition A.
The "Yes on A" group is spearheaded by former Planning Commissioner Bruce Ehlers, who weighed in on the anti-Prop. A mailer.
"They're spending a lot of money on phone calls, on mailing color glossies, on employing people to work for them to state their case as opposed to our group, which is volunteer-based; we're all residents," Ehlers said.
Leadership of the two "No on A" groups identified on the flier has been difficult to pin down.
Not only was no one person stepping up to take credit for the creation of the flier in question, but there was also no discernible public leader for either group.
Although the fine print on the mailer appeared to clear up the mystery – guiding readers to the website of Homeowners to Preserve Encinitas, or "HOPE," for more information – the group denied producing it.
Representatives chose to define themselves as committee co-chairs rather than by name when they answered questions via email.
"HOPE is an independent group, that shares the Council's unanimous opposition to Prop A, but has had no formal contact with the Council," they stated.
The HOPE website domain is registered to John Wainio of the San Diego Group, which, according to his company website, is "a full service political consulting and public affairs firm which has been designing and implementing winning political and communications strategies since 1995."
His land-use clients include major developers.
But Wainio said he wasn't in charge of HOPE.
"I just lent them my credit card to create the website," he said.
He pointed out the rest of the fine print on the flier, which stated that it was mailed by Encinitas Residents, Businesses and Taxpayers Opposing Prop. A.
Christy Guerin, a former mayor and councilwoman, verified that although not its leader, she is part of the group, supplying it with her time and endorsement rather than money.
Guerin said the association is comprised of a group of friends of the current City Council, including former Mayors Rick Shea and Chuck DuVivier.
"Some people wanted to come from a group that was former mayors, residents … and I think a lot of us came from a homeowner perspective and a taxpayer perspective versus being indirectly attached to either the council members or a developer group," she said.
She also said there was communication between the two "No on A" groups because they didn't want to duplicate efforts.
Regarding City Council members' reaction to the flier, she said: "They're public figures, so that happens all the time. But I'm surprised that there's any issue with it, in the sense that this is what they said and they've taken the position pretty strongly."
Political Science Professor Luna summarized the role of political mailers.
"Mailers are the political equivalent of late-night infomercials – you take them with a grain of salt," he said.
Helen Hawes is a North County freelance writer