Artist seeks others to help spread the 'Madonna' message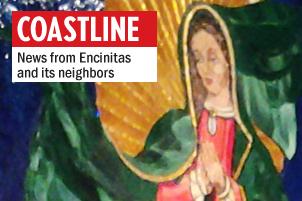 The environmental message of the Surfing Madonna mosaic – "Save the Ocean" – is set to reach far more people up and down the coast of California.
Within the next few months, a handful of artists from different cities and a variety of genres will receive an invitation by Mark Patterson, the creator of the original artwork, to produce their own versions of the Madonna to be placed in privately owned spaces.
"I think it's just awesome for others to have their own interpretation; we will see renditions that will shock, amaze and inspire," he told the North Coast Current.
So far, a bronze sculptor from Northern California, Susan Holt, is on board, and her final project will most likely be placed in or around Pebble Beach, a popular surfing spot.
Patterson said he is delighted to have started this project because, to him, it's all about spreading the message and protecting the seas.
"We are expanding our reach because we want people to wake up; the ocean is in trouble. We can't treat it like a giant trash can; if we do, there will be a price to pay," he said.
The surfboard-riding Virgen de Guadalupe – a 10-foot-square art piece of stained glass and stone – first appeared in April 2011 under the railroad bridge at Highway 101 and Vulcan Avenue in Encinitas. It immediately stirred controversy.
City officials labeled the work graffiti because its installation did not go through the mandatory public-review process, and they right away began the process of having it removed. It was taken down on June 22, 2011.
To avoid any legal problems this time around, of course, Patterson said the new artworks will be installed with the proper permits.
"It has to be done legally, because I already paid that price and we don't want anybody going to jail," he noted.
Patterson added that he will soon make an announcement about the other artists, which will include a local representation. He specifically wants the San Diego version of the Surfing Madonna placed somewhere in the Chicano Park area.
To help fund part of the artists' work, the Surfing Madonna Oceans Project organization, a nonprofit started in early 2012 to bring forth issues affecting the world's oceans, is hosting the first Save the Ocean 5-10K Beach Run on Nov. 16.
It will be at Moonlight Beach, in the heart of Encinitas, and runners, joggers and walkers are encouraged to participate. The 5K costs $39 and the 10K costs $49.
The other part of the proceeds from the race will go to support a few community organizations yet to be selected.
"Don't miss out on this race; it will be really fun. We will get to run on the beach, which is unheard of," Patterson said.
As of June 2012, a year after it was taken down from its original location, the Surfing Madonna reappeared in public. It was mounted on the outside wall at Cafe Ipe, located at 970 North Coast Highway 101 in Leucadia.
For more information and to register for the beach run, visit www.surfingmadonnarun.org. Also visit www.surfingmadonna.org to learn more about the Surfing Madonna Oceans Project.
Artists interested in getting involved on this project email Patterson at [email protected].
Ernesto Lopez is a San Diego freelance writer