Longtime downtown Encinitas advocate and Highway 101 Coordinator Peder Norby announced his decision to move his passion for economic redevelopment to Carlsbad after 16 years with the city.
The city of Encinitas agreed to an early contract termination effective Aug. 15, the same day Norby's one-year consulting contract with Carlsbad begins. The Carlsbad City Council approved the $125,000 contract in June and will vote annually whether to extend the agreement, according to news reports.
The Encinitas community has undergone major changes in the past decade, including the downtown Streetscape project in 2000, which Norby defined as the "skeleton underneath all the pretty stuff."
Although he facilitated much of the renovations in downtown Encinitas, Norby said thanks are owed to the merchants, property owners and the city.
"I believe people give me way too much credit for that," he said while sitting in the very lumberyard near where some of the project construction had taken place after having gone virtually unused for more than 10 years.
"There was no grocery store, no hardware store. City Hall was in a different location and there was no Coaster," he said.
The project set the stage for downtown growth, along with updated sewer lines and retrofitted roads. Norby said the renovations were meant allow downtown to sustain another 100 years.
What's in store for Carlsbad
Norby said he has a vision for Carlsbad similar to what was achieved in Encinitas, while acknowledging that every community is unique. He said he is approaching the new project with an open mind and listening ear.
"I think it's important that interpretation happens," Norby said. "Deciding right now what should happen is premature.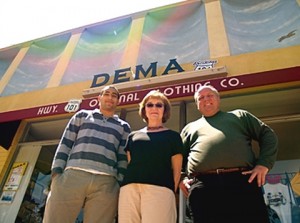 "Interpretation is getting yourself on the ground, listening to stakeholders, finding out what the issues are, how things lie, and then figuring out a path forward."
According to Norby, plans for Carlsbad focus on environmental restoration, the creation of a more community-friendly downtown and improvements to bike and pedestrian beach access – including a biking corridor – but he anticipates hearing many other project ideas from members of the community.
"If I could put it into a sentence," Norby said, "I would say it's 1,000 conversations with intent."
Those conversations are not random, he said. They require footwork, going to meetings, getting to know people and their issues, delving into the history of the area and lots of research.
Norby is no newbie
Norby, 50, has lived in Carlsbad for 31 years and has spent at least half that time being involved in the community.
He took part in the initial discussions behind the Legoland California theme park, and in 1994 became the task force chairman during the elections and planning of the attraction, which opened its doors in 1999.
Before becoming involved in redevelopment, he owned a Danish bakery business. He started his first business at the age of 19 and went on to open six stores – four in San Diego and two in New Mexico. But he said he always knew what he wanted to do.
"My income was the bakery business, but my passion was economic redevelopment and community restoration," Norby said.
In 1997, he became executive director of the Downtown Encinitas MainStreet Association, and after getting established in his new career decided to sell the bakery business.
In 2007, Norby took on a newly created Highway 101 coordinator position, getting a chance to work in surrounding areas such as Cardiff-by-the-Sea and Leucadia. He facilitated the General Plan restart after community backlash sent the proposal back to the drawing table – which he said was the toughest task he's taken on in his career so far.
Norby said his wife, Julie, spent two decades as an elementary school principal before recently exploring a new path as the director of instructional services for the Solana Beach School District. The change, he said, influenced his own decision to make a move.
"She left a community she had been in for 20 years," Norby said, "and I thought, 'If she can do it, I can do it.'"
The couple made major career changes within two months of each other.
Heather Rushall is a North County freelance writer