Merchants await finish of Solana Beach project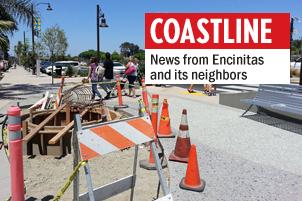 With construction nearing completion on the Solana Beach streetscape project along the Highway 101 corridor, most businesses are starting to see a higher flow of customers come through their doors compared to a few months back.
Soon after the beginning of construction, back in July 2012, shopkeepers reported experiencing a drastic drop in business. For many of them, the development couldn't be done soon enough.
But the streets and sidewalks are now widened; there are more parking spaces, benches and gathering places. Additional streetlights with decorative poles have been installed, dozens of trees planted and more crosswalks added, among other additions.
"It has been a lot better lately," said Ashley Cass, manager at Coastal Postal & Toys. "There is more foot traffic and our customers who avoided the area during construction are starting to come back."
Dan King, from the city manager's office, said via email that all work should be completed by early September, which is about two months ahead of the anticipated date. He said it's also important to note that all construction work that affected businesses and traffic flow was completed by the end of May.
"The remaining of the work still to be completed is primarily aesthetic in nature such as landscaping, sandblasting words at some of the gathering places and completion of the fountain," King wrote.
Additionally, King said, the contractor will be installing bike racks and bus shelters once they are delivered.
Rough time for merchants
What helped Cass survive the 50 percent drop in business due to construction was the store's online shopping option.
And while reminiscing on the past few months, she said, "It was terrible. We would sometimes go days without sales and would have a hard time paying our bills."
Bob Castro of Bob's Barber Shop also said he has seen an increase in foot traffic in recent weeks. By the same token, Danielle Nourani, an assistant manager at Java Depot, said business for them has picked up substantially that they are hiring help.
"We did have a lot of dead days during heavy construction periods but we are now doing pretty well," Nourani said.
However, for some business owners, the recent boost is not enough.
Charles Pinaby of Yummy Yogurt shop said the small increase in revenue cannot nearly erase the economic damage done by the construction in the past 13 months.
Pinaby said he he had to let go of his two employees and took out loans to stay afloat. He is basically a one man show.
"I cannot begin to describe how rough it has been. Imagine having to work seven days a week, nonstop," Pinaby said.
"This project was bad for business; it was basically a rejuvenation of the sidewalks and nobody is going to just come here for the sidewalk. I am sure the residents love it but I won't appreciate it until business goes back to normal," he added.
If business does not return to pre-construction levels, Pinaby said he may have to close his doors.
"Before we were buzzing, now I don't have high hopes. If things don't get back to the way they were, maybe I will have a change of heart; I don't' know If I will continue to be here," he said.
King said it is unfortunate that some of the businesses reported experiencing a decrease in clientele, and added that the city plans to continue to work with retailers individually as well as collectively with the local Chamber of Commerce and the Highway 101 Association to promote the revitalized corridor.
"We will definitely keep our eyes on the area and work with the businesses to expand and grow as it becomes a real destination spot for residents and visitors alike," he said.
Positive reactions so far
Residents and visitors from neighboring cities do seem to enjoy the project's outcome. On Aug. 10 during peak hours, what seemed like a few hundred people were out walking their dogs, shopping or enjoying a meal at the many restaurant options.
Rose Hanley, a Solana Beach resident having lunch at Pizza Port, said she is happy that construction is nearly done because it's easier to get to the strip.
"It's really pretty and much safer for people walking and biking; more dog-friendly too," she said.
Carlsbad resident Rose Marie Bennett, who had just done some shopping, also said the nearly finished product looks "really nice" and it feels more pedestrian-friendly.
"During construction, my experience here was not so good, like everyone else's," Bennett said. "I tried to come Christmas shopping and it was just tricky to get in and out. You had to be very persistent to shop in the area, I would drive through quite often but I did avoid stopping by."
In collaboration with the Chamber of Commerce and the Highway 101 Association, King announced that the city is planning a Grand Re-Opening Celebration on Sept. 22 from 11:15 a.m. to 4 p.m. There will be live music, chalk artists, performances, fence art and a Taste of Solana Beach event involving many of the restaurants along the corridor.
Ernesto Lopez is a San Diego freelancer writer