First Encinitas mayor's race looms; 22-year-old plans run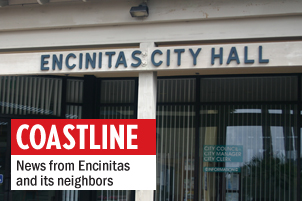 Jessica LaFontaine
December 27, 2013
Encinitas is preparing to implement a new system for choosing a mayor after voters in 2012 opted to change from an appointed mayor to an elected one. With an elected-mayor format looming in 2014, Solana Beach and Del Mar will be the only cities left in the area still running under an appointed mayor.
For some in Encinitas, the decision to change the system the city has been running under since its founding in 1986 is a controversial one.
"I did not support an elected mayor; I felt that I could develop a reasonable rotation system but the public voted for an elected mayor," said Councilwoman Teresa Barth, who served as the council-appointed mayor in 2013.
The voters opted to have an elected mayoral position, with a two-year term. Barth said she has mixed feelings about the shorter term as opposed to the more common four-year term.
"It has its pros and cons," Barth said. "The mayor will have to check in with the voters every two years, but running a campaign is a time-consuming and costly endeavor."
Barth said the Proposition A special election in June, for example, cost the city about $300,000, with previous items on the ballot during the general election costing about $30,000 each.
Barth compared the situation to that of Congressional two-year terms, where she said "you really see the influence of special interests' money."
According to City Clerk Kathy Hollywood, the costs of the election will remain undetermined until the registrar of voters contacts her after the start of 2014. The candidates for mayor are also yet to be seen.
"I'm not sure who of the council members will be running; no one has announced yet," Hollywood said.
The only person so far to announce an intent to run is 22-year-old Alex Fidel.
According to Fidel's mayoral Facebook page, he is "an independent supporting liberty, ecology, equality, and peace." Fidel grew up in Encinitas and graduated from San Dieguito Academy.
"I've always been politically active since I turned 18," Fidel said.
Fidel said he gained experience in politics while volunteering on the presidential campaign for Gary Johnson, former governor of New Mexico. He said he has a general philosophy of liberty, while he promotes the issue of medical marijuana as a main element of his campaign.
Council members Barth and Kristin Gaspar – who will be sharing the final appointed-mayor rotation in 2014 – are about to reach the end of their terms. Barth stated she will not be running for City Council again but has not decided about the mayor position. It is unknown if Gaspar will be running for either position.
Jessica LaFontaine is a North County freelance writer