Former Ecke YMCA board members still seek the 'why' behind membership changes
Two ex-trustees, connected to Encinitas branch's founding families, protest elimination of youth rates
After two Magdalena Ecke YMCA board members said they were asked to resign, they have started a website to spark change in the YMCA of San Diego concerning the recent elimination of youth membership prices at the Encinitas branch and how it will affect revenue and participation.
Through the website and related Facebook page Bob Ayers and Lizbeth Ecke have started, www.ynowsd.com, they aim to put public pressure on the YMCA of San Diego so the board of the Encinitas branch can address concerns over the membership changes, Ecke said in a phone interview.
"Our effort is to get answers to the questions we asked," Ecke said.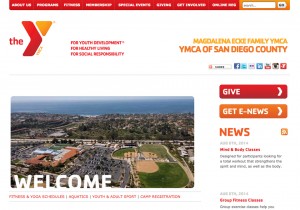 The controversy centers around the elimination of youth membership prices for children under 13 years old, which cost between $80 to $100 per year. The membership structure has been replaced by a family membership requirement of $700 to $1,000 per year.
However, the reason Ayers and Ecke were asked to resign was not over the concerns they raised about the youth memberships, among other issues, in a letter they sent to corporate in January, according to Ecke.
She said they were asked to resign because they did not follow the proper procedure of communicating to the YMCA of San Diego board. She added that San Diego corporate asked her and Ayers to resign, not the Encinitas YMCA branch.
Ecke is the daughter of Magdalena Ecke branch founder Paul Ecke, and Ayers is the son of the branch's first executive director. For several decades in Encinitas, the Ecke family was an institution in the global poinsettia industry.
Ecke explained that she and Ayers spent years on the Magdalena Ecke board trying to work with the YMCA of San Diego about the youth membership dispute, but Ecke said they "would not hear of it and that's why we decided to go public with it."
The YMCA of San Diego, including President and CEO Baron Herdelin-Doherty, did not respond to questions sent.
Many people have already come forward on the ex-board members' pages, but most have remained anonymous in their comments. People have commented questioning the integrity of the YMCA and wondering if they will purchase family memberships just so their children can attend the Y.
Some have also questioned Herdelin-Doherty's $400,000 annual salary.
Ecke said she doesn't know what individuals will do, but it hurts families who can't afford $1,000 a year.
The youth membership change was set for implementation starting June 1, according to Ecke. The Encinitas branch was the last YMCA in San Diego County to offer youth memberships. The change happened at other YMCAs in the past few years.
With the elimination of youth memberships, parents will only have the option of purchasing a family membership because children under 13 cannot become members on their own.
Single-parent family membership costs $700 and two-parent family costs nearly $1,000 per year to have access to all YMCAs in San Diego. However, memberships can be significantly cheaper with the option of only having access at a certain location.
At the Jackie Robinson YMCA, a two-parent family membership costs $576; at the Border View YMCA, a two-parent family membership is $696.
There are 429,000 members and participants at all the YMCAs in San Diego, but the breakdown for each branch is not readily available. Nearly 206,000 are youths and 223,000 are adults.
Ecke said she and Ayers still haven't heard anything from corporate regarding the youth memberships, although she wasn't surprised. She said this will be an ongoing situation until they get answers, however long that takes.
The YMCA of San Diego determines how the YMCAs in the area are run, such as rules and pricing.
"Decisions the corporate board makes impact all … YMCAs in San Diego," Ecke said.
Susan Whaley is a North County freelance writer