Encinitas City Council fills seat
amid district boundary concerns
Joy Lyndes chosen to replace Jody Hubbard for District 3
The Encinitas City Council filled a vacancy on the dais Feb. 24 amid one member's concern about Cardiff's representation given the boundaries of its voting district.
Joy Lyndes was selected in a 3-1 vote, with Councilman Tony Kranz dissenting, to replace former District 3 Councilwoman Jody Hubbard, who resigned for health reasons in January. Lyndes was one of 13 applicants for the seat.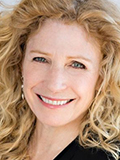 "I have always been focused on the public sector," Lyndes said in brief comments to council members before their decision. "The large land use, the planning and the design. The work that I do is ecological restoration, green infrastructure, urban forest, that kind of landscape architecture."
A Cardiff resident for eight years, Lyndes is the founder and principal landscape architect of Coastal Sage Landscape Architecture, located in downtown Encinitas. She served two terms on the city's Environmental Commission and is an Encinitas Historical Society board member.
Council members praised Lyndes' community involvement, from the development of a landscaping plan for the former Pacific View school site to the city's Cyclovia community cycling event.
"She's already sort of acting in the role of council member," Councilwoman Kellie Hinze said during the meeting.
Discussions hit a snag, however, when Kranz expressed concerns about Lyndes' proximity to the current northern District 3 boundary, which could shift and push her out of the district in a possible realignment.
"She lives in a part of town that I don't really consider to be part of Cardiff," Kranz said at the meeting. "So I am a little concerned about the appointment from the standpoint of the redistricting that we're going to have to be doing here in the next year."
Encinitas' four electoral districts are the result of a Malibu attorney's threats of litigation to numerous cities over the issue in 2017. District 3 represents Cardiff and surrounding neighborhoods north and east of the community.
"We know why that part of the city is in District 3," he told colleagues at the Feb. 24 meeting, speaking about the challenges of placing incumbents in districts at the time. "It was because Mark (Muir) lived over there, and we wanted to make sure that every council member wasn't competing against one another."
If the boundaries were to be redrawn and the district wouldn't be up for election yet, one issue centers around how the current seat's occupant would be affected.
"I am concerned about the idea of appointing somebody that's going to create a situation where in order to carve out that person's home to put them in the district that they're theoretically going to run from, just is bothersome to me," Kranz said during the meeting.
Mayor Katherine Blakespear replied that it wouldn't be fair to dismiss Lyndes because there was no guarantee the district boundaries would change in the near future.
"It would be unfair for us to say to someone, you're in this district but we don't really like the fact that you're in that district, so you really are disenfranchised," Blakespear said at the meeting.
In the end, Kranz, who serves as deputy mayor, said he wasn't dismissing Lyndes' right to run since she is in the district, but his concerns were strong enough to consider another applicant — Brett Farrow — for the seat.
"It's important, I think, to have that representation, a Cardiffian, and I think that Brett is in fact that in spades," he said. "There are others, of course, as well."
Jody Hubbard, who held the seat until she resigned in January, also spoke in support of Farrow during public comments.
"I believe land use is one of the most important issues facing us, and it's not going to go away anytime soon," she told her former colleagues. "This has been one of my priorities in selecting the person I'd like to see replace me and carry on my thoughts and beliefs and what I represented to my constituents as to why I was running."
In his comments to the council before its vote, Farrow talked about his experience as a member of the city's Planning Commission, a working architect and professor focusing on infill development and walkable spaces, and former Cardiff 101 Main Street Association board member.
"As a member of the community with the skills for land use and understanding the needs of Cardiff and the city of Encinitas, Brett Farrow would be a valuable asset to the city serving as my replacement," Hubbard said.
Council members overall said they were pleased with the depth of knowledge and community involvement found in the entire pool of candidates.
"I think it says volumes about them and our community that there are so many people that are willing to commit themselves and hours and make sacrifices to serve the public good," Councilman Joe Mosca said during the meeting.
encinitas current, cardiff current