Encinitas gift shop unwraps historical surprise behind wall
Queen Eileen's leaves circa '50s-era Coca-Cola sign intact
Eileen Burke, owner of Queen Eileen's Gift Baskets in Encinitas, had been planning to retire at 65.
However, unsure of what she would do with all the newfound free time of retirement, Burke decided to work for five more years and remodel the store.
"Because I was going to work another five years, I said, 'Well, if I'm going to work another five years, I might as well step up my game,'" she said.
Burke had no idea the renovations would lead to the discovery of a vintage Coca-Cola sign within the wall of the store.
Queen Eileen's, which has been open for more than 30 years in downtown Encinitas, reopened March 13 with a Coca-Cola-themed celebration in honor of the sign that was uncovered.
The store celebrated its reopening and the sign with friends, customers and the public, featuring brownies with gummy Cokes, rum and Cokes and Coke pork sliders, among other retro appetizers, Burke said.
"We had a fabulous time," she said. "Ever since we did the remodel, it's been just bonkers in there. I don't know if it's just because downtown is crazy, but everybody's coming in to see the Coke sign."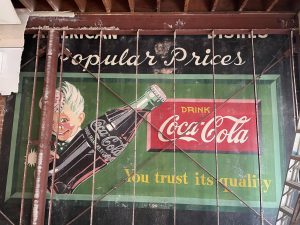 She added that they found the sign behind drywall while looking for brick.
"We didn't know it was there," Burke said. "We were just looking for brick, we thought there might be brick behind the drywall. So we were knocking it out looking for the brick and then all of a sudden we saw green and black and red."
The sign features the Coca-Cola "Sprite Boy," a character that appeared in Coca-Cola advertisements from 1942 until 1958, according to the Huffington Post.
Carolyn Cope, president of the Encinitas Historical Society, said it's known that the location was a hardware store in 1947, based on the society's archives archives. However, she added that the society thinks it might have previously been a drugstore with a soda fountain.
Cope said the sign is particularly exciting because of its pristine condition.
Irene Pyun, executive director of the Encinitas 101 MainStreet Association, said in an email statement that the organization was very excited to hear about the discovery.
"It is always fun to hear about little bits of history in our town and to be able to share that with our community," she said.
Queen Eileen's plans to leave the sign in the store for the public to see, Burke said.
"It would be a shame to do anything with it, to cover it up," she said. "We're super excited that we found it."
---
Julia Shapero is an Encinitas freelance writer.
encinitas current, cardiff current