EDCO, Encinitas start food waste program in line with state law
City working with Solana Center in public education effort
EDCO launched a new organics recycling program in June to encourage residents to recycle food waste. The program puts Encinitas, and the rest of San Diego County, in compliance with a state law requiring organics waste reduction by 2022.
While people commonly associate greenhouse gas emissions with large machines and factories, food waste is also a large greenhouse gas emitter. According to EDCO, organic waste is an estimated 40% of waste in California. In a landfill, all of that waste breaks down and releases methane gas into the atmosphere.
To prevent that waste, San Marcos-based EDCO built a new anaerobic digestion facility, which allows the waste to break down in an enclosed space. The facility, which serves all customers in San Diego County, turns the waste into renewable fuel and fertilizer; EDCO plans to use the fuel generated to power its collection trucks.
Under the new program, customers can leave organic waste — both food waste and yard clippings — in the green waste bins, which EDCO will deliver to the facility.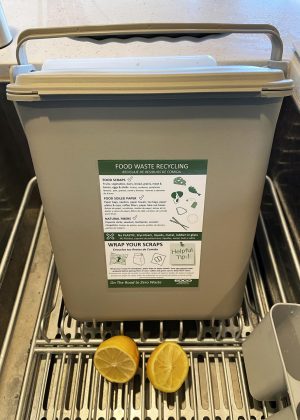 EDCO also provided households with plastic caddies as a convenient way to dispose of food waste in the kitchen, but the company acknowledged it doesn't work for everyone.
"Some have found it a challenge to separate materials in their homes," EDCO General Manager Jim Ambroso said. "We encourage them, if the caddy doesn't work, to use a method that does work for them."
The Encinitas City Council approved fee increases for all residents, including those who opt not to use the caddies, of less than a dollar a month for a year to cover the cost of the caddies and a permanent monthly collection fee increase of $3.68 a month, in addition to increased franchise fees, Ambroso said.
Mayor Catherine Blakespear did not respond to requests for comment.
Encinitas partnered with the Solana Center of Environmental Innovation (Solana Center) to educate residents about the new program. Solana Center Executive Director Jessica Toth told the North Coast Current that educating residents on the positive environmental aspects is most effective.
"People are incentivized more when they understand the impact of their actions," Toth said.
While the state law has prompted the City Council and EDCO's actions, Toth said residents are less inspired when they're informed that it's the law versus when they're told recycling organics will help save the environment.
Solana Center Environmental Solutions Director Mallika Sen focuses on outreach with residents and businesses. She said the Solana Center has hosted webinars and conducted social media outreach to educate residents about proper recycling.
She said that most questions she receives are about which items go in the organics bin. Encinitas has a website with information about proper recycling, but Sen said the most important thing is to remember not to include plastics or compostable containers. They can include anything organic, including animal products like bones.
"Plastic is the devil," Ambroso said, joining Sen's request for residents to exclude plastic waste.
"Our request always is to err on the side of caution," Sen said. "If you don't know, don't put it in. Do research, contact us, and put it in next time if it's OK."
The Solana Center has an email hotline where residents can send their recycling questions.
While the city and EDCO's goals are ultimately to comply with state law, Sen said it goes beyond that; the goal is to reduce food waste, which saves residents money and reduces greenhouse gases.
"The average household spends $1,800 on wasted food," Sen said. "The whole concept of collecting organics makes you aware of how much you're using. It helps you realize what you're wasting so you waste less, which helps your pocketbook and helps the environment."
---
Ethan Edward Coston is a local freelance writer. Follow him on Twitter @Ethan4Books.
cardiff current, encinitas current