Would you like fries with your city?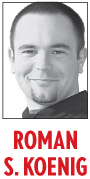 I'm not really clear on our city's apparent infatuation with fast-food restaurants.
Is it part of our larger culture's obesity epidemic? Is it comfort food to nourish our collective depression? Or have we become "Anytown USA" instead of Encinitas?
Unfortunately, "Anytown USA" is the most likely answer. And our local media are feeding into this junk news.
When Chick-fil-A began work on a restaurant in Encinitas last year, for example, a Patch.com editor billed it as "big" news for the community. Perhaps it was tongue-in-cheek, but the comment struck me nonetheless.
As some observers pointed out at the time, there are far more important things to consider "big news" in communities like ours. I could name any number of issues off the top of my head: housing density, community character, school quality, homeless support, beach erosion, City Council control, local business vitality, health, you name it. A fast-food restaurant – as comforting as the food might be – is not big news.
But again, at the end of March, "big news" fast food cropped up. This time, In-N-Out.
A Coast News story noted that "relief may be in sight" for those In-N-Out fans who've had to make the trek up the freeway to Carlsbad to get their burger fix. A U-T San Diego story referred to the proposed eatery as the city's "first" In-N-Out. Perhaps we're deserving of two in the future?
Then the blogosphere jumped in. Encinitas Undercover at least looked at it from a traffic and planning standpoint. And it noted that In-N-Out would replace a longtime fast-food joint (Del Taco) that some find "unpopular."
On Patch.com, posted comments lauded In-N-Out as a "positive addition to our community." Other posters countered that sentiment with comments such as this: "Artery-clogging and traffic-clogging. Not the nicest combination for Encinitas."
Comments aside, the fact that local media use adjectives such as "big" and "relief" to describe these developments – as news they choose to cover – is not encouraging.
I admit that I've happily made the occasional trek to the Carlsbad In-N-Out for nearly 20 years. The fact I've had to drive a bit has probably saved me many pounds of girth. I also happen to enjoy the occasional Chick-fil-A.
I'm not against the idea of these restaurants in Encinitas. I am against the propagating of this kind of development as the most important news a community can muster outside headline-grabbing crime and nasty political chess, of which we've had several servings lately. Especially when there are plenty of local merchants who deserve a spotlight in business coverage.
Ultimately, it's not about what's being covered. It's about how.
Roman S. Koenig is editor and publisher of the North Coast Current